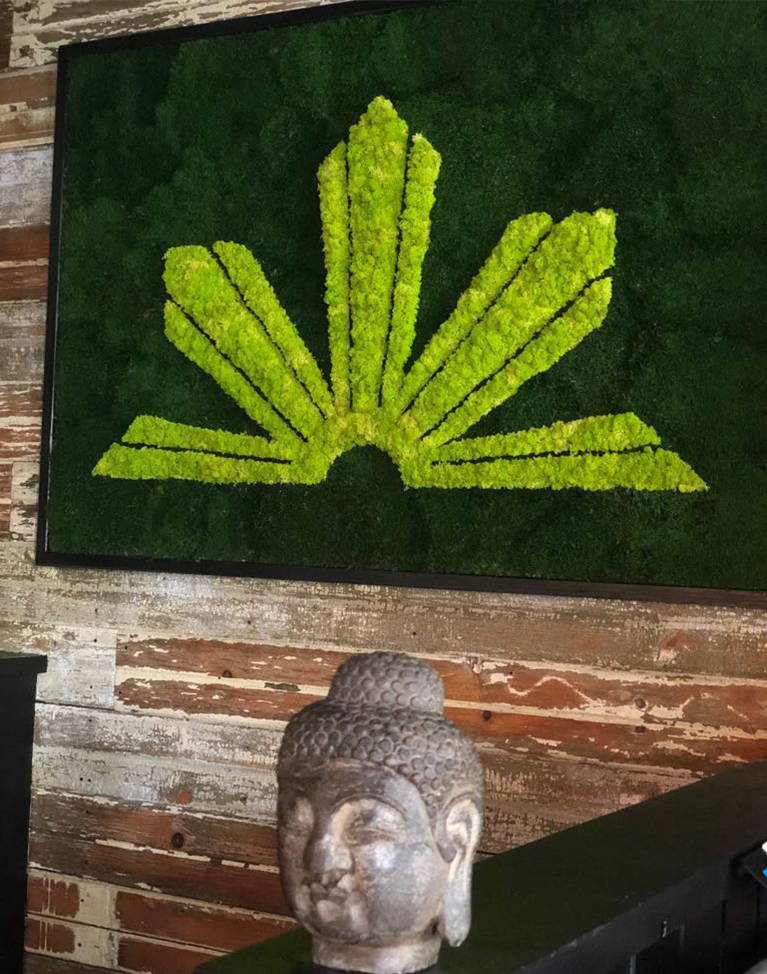 Bespoke Moss Applications at Talde Restaurant
 
Client name: Talde Restaurant
Location: 8 Erie St, Jersey City, NJ 07302
Concept used: Moss Signs & Decor
Project Specifics:


– Logo Application
– Moss Application
– Green Sign
Material Used:
– Flat Moss
– Reindeer Moss
– Amarantus
– 5 Years Guarantee
 
---
Talde Restaurant is a hip place on the corner of Erie and Bay Street in Jersey City. A casual Asian-American restaurant and bar by chef Dale Talde, David Massoni, and John Bush, boasts a unique western approach to Asian dishes. In case you have walked by Talde Restaurant but didn't stop by, make sure you do. Their craft cocktails and creative Pan-Asian cooking are a must-try. If you've been there, we are sure you already have your favorites.
Another thing that you will most certainly enjoy when visiting Talde Restaurant is its modern, bright interior setting. In August 2018, this happening restaurant was embellished with a logo application and organic design moss application made by Flowerbox on their historically protected brick walls.
Continue reading to find out how Flowerbox adorned the unique interiors of Talde Restaurant.
FLOWERBOX BRINGS SPECIAL VIBE TO TALDE RESTAURANT IN JERSEY CITY
Talde Restaurant is a very busy place on just about every night of any given week. A large, striking neon sign bearing the restaurant's name on the entrance makes the place hard to oversee. The place is actually 144-seat former police station featuring an open layout and industrial-meets-Asian interior setup. Long, casual communal table, perfect for plate sharing, dominates the center of the restaurant, while the rest of the place presents a mix of booths and individual tables. An extensive bar is lit by pretty overhead lamps. Striking details like high ceilings, exposed brick walls, natural granite floors, white silk Chinese lanterns hanging on wires throughout the place, and Buddha heads adorning the sides of the dining booths, make Talde Restaurant a must-see place in Jersey City.
Flowerbox designers created Talde Restaurant logo application and organic design moss applications on their historically protected brick walls. We used flat moss and reindeer moss as basics for all applications and added gorgeous amarantus to the mix. The interiors of Talde Restaurant are pretty unique and we succeeded to make our green moss signs feel like an organic part of it. Many who come here for a fine dining will be able to enjoy Flowerbox applications pretty much wherever they sit.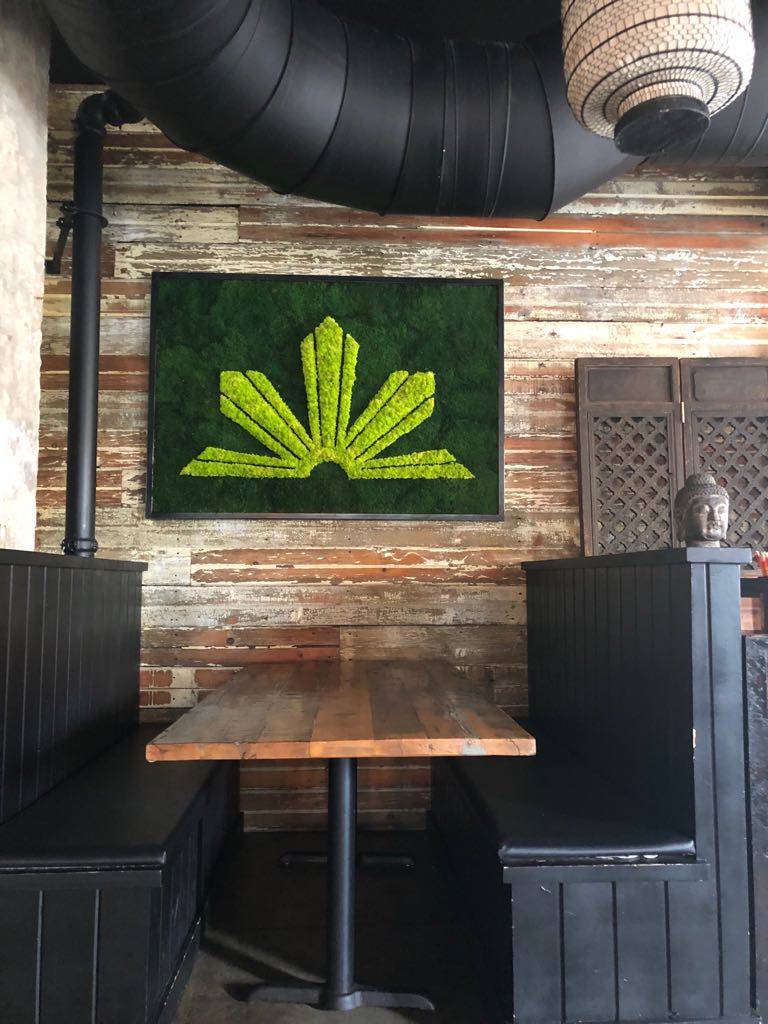 BEAUTIFUL BESPOKE LOGO GREEN SIGN FOR TALDE RESTAURANT BY FLOWERBOX
Flowerbox designers and technicians used flat moss as a foundation for Talde Restaurant logo application. The logo itself stands out thanks to lush, bright, and fresh looking reindeer moss. Bushy and abundant, light green reindeer moss opposes darker looking flat moss and creates a remarkable, eye-catching contrast.
Mosses present a symbol of freshness, life, and vigor. They grow in extreme conditions and successfully adapt to indoor environments. The same way, different kinds of mosses can work together to give us just the results we need. They oppose and contrast each other but they also, at the same time, bestow a harmonious, amiable appearance. Flowerbox logo application for Talde Restaurant is not just a decor element; it's more of a statement and a sign of restaurant owners' dedication to sustainability and belief in the deeper meaning of everyday objects.
ORGANIC DESIGN MOSS APPLICATIONS ADORN TALDE RESTAURANT'S BRICK WALL DESIGN
Brick wall design is perhaps one of the most prominent decor elements in the interior of Talde Restaurant located in Jersey City. Brick wall design easily captivates, fascinates, inspires, and elevates modern and industrial interiors. Adding character to the decor, the atmosphere of rustic and historical marries past and present, old and modern. Talde restaurant's historically protected exposed brick walls tell a story of the past when this space had another purpose.
Realizing that exposed brick walls can look amazing when combined the right way with other decor elements, Flowerbox created one-of-a-kind, delightful organic moss applications for these historically protected walls.
ORGANIC MOSS DESIGN APPLICATION ON TALDE RESTAURANT'S BAR WALL
A wall behind an extensive bar, lit by pretty overhead lamps, makes the bar space look unlike any other. Covering a large portion of the wall, Flowerbox organic design moss application features flat moss, reindeer moss, and amarantus. Moss provides a cohesive look while amarantus flower with its abundant tiny seeds looks striking and adds interest to the application.
Carefully shaped to give the look and feel of a real, natural moss cover that you can find spread out in nature, our application conveys an organic look. We created the application to bestow a soothing effect, a feeling of calmness and serenity to anyone who takes a seat at the bar or just glances in its direction. Needless to say, this gorgeous Flowerbox wall application will captivate attention, calm mind, and give the sense of fulfillment.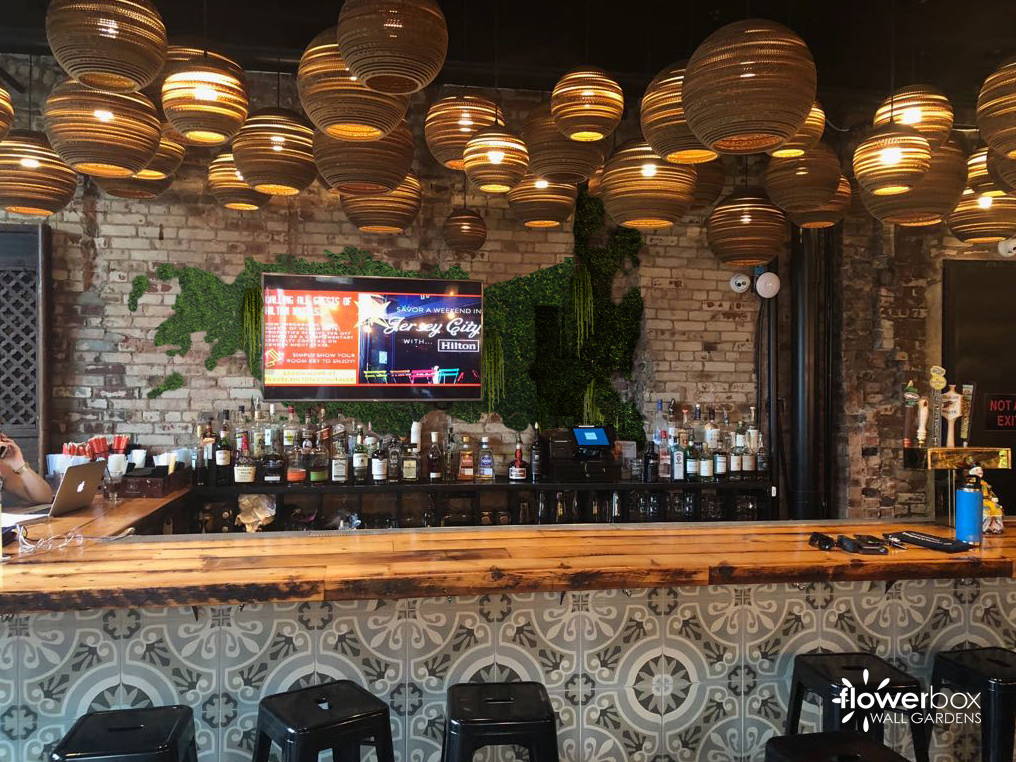 ORGANIC MOSS DESIGN APPLICATIONS THROUGHOUT TALDE RESTAURANT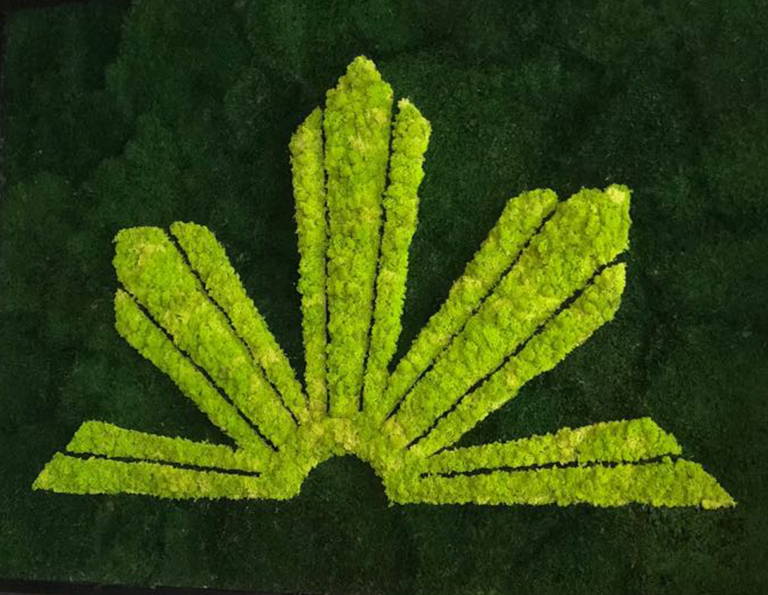 Can you imagine walking through perfectly still, captivating winter woods, seeing only white, gray and shades of brown but then, all of a sudden, you walk upon a lush, intensely green, dense, abundant patches of moss? A similar sense of wonderment will overcome you when you step into Talde Restaurant in Jersey City. Many organic moss design applications of diverse sizes are carefully positioned throughout the restaurant's interior. You will spot one larger green moss application near the entrance while the smaller ones can be spotted near the restaurant's bar.
These wondrous patches of moss you will be able to enjoy for another 5 to 7 years at Talde Restaurant. But you may wonder how a plant can be so green, so hardy, and so durable. Read more to learn what does Flowerbox do to keep them lush and fresh for years to come.
FLOWERBOX GREEN MOSS SIGNS — LONG-LASTING, NO-MAINTENANCE DECORATION FOR ANY INTERIOR
The key to any successful green moss sign application is top quality mosses and other plants. Flowerbox uses only sustainably sourced mosses of the highest quality. To create unique vertical wall gardens and bespoke green signs and moss wall applications, we preserve all the plants we use. Preserving means using a non-toxic, eco-friendly glycerin-based solution to keep the fresh-cut look of bun moss, reindeer moss, flat moss, amarantus, and other plants. This is why we give 5-years guarantee on all of our wall gardens, moss signs, and other custom-made designs.
Using only naturally preserved plants, Flowerbox creates not only long-lasting, sustainable, and eco-friendly wall gardens. Our wall gardens, green moss signs, and applications are absolutely maintenance-free. Each piece, created to your specifications to fulfill your needs, will provide you with a guilt-free enjoyment. You don't have to have a green thumb or to think about when was the last time you watered your plants. Flowerbox preserved wall gardens, moss signs, and moss walls give you a chance to truly relax. They can take as much of the space on your walls as you would like to.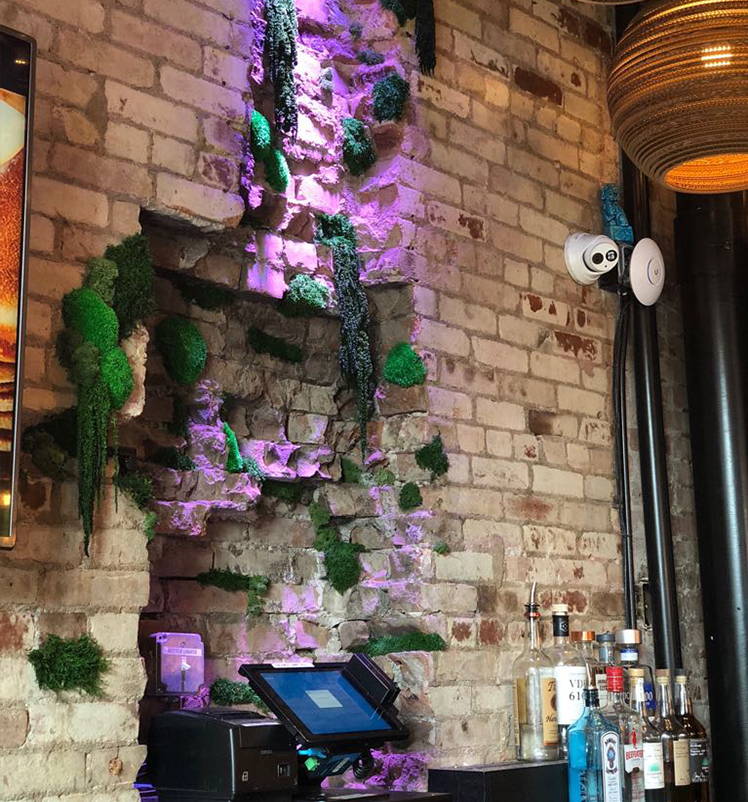 Bespoke Moss Applications at Talde Restaurant
CONTACT FLOWERBOX TO MAKE YOUR INTERIOR DECOR STAND OUT WITH OUR GREEN SIGNS
Whether you represent a business or you're an individual who wants to make their home beautiful, feel free to give us a call at 716-524-0997 and contact us today. We can't wait to hear your ideas and share your vision. Our preserved, soft, supple plants will beautify your interiors with the ennobling splendor of outdoor nature.
Get inspired by the Projects we already did and let your imagination soar — envision your perfect wall garden or a green sign. Learn more about Flowerbox Wall Gardens, Moss Signs, and Green Step & Repeat.
Contact us today to start working on your interior project.