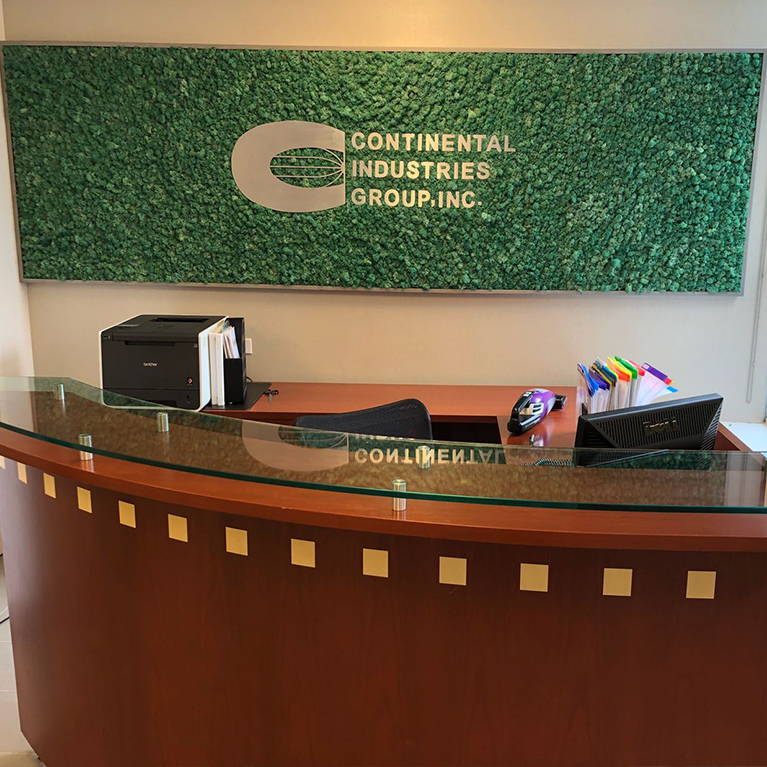 Custom Green Sign Application Project
Client name: Continental Industries
Location: 733 3rd Ave, New York, NY 10017
Concept used: Green Sign, Wall Gardens, Green Accents
Project Specifics:
– Custom Green Sign Application for their lobby area
– Corner Column application for office space
– Green Accents for the kitchen area
Materials Used:
– Moss
– 5 Years Guarantee
---
Flowerbox Wall Gardens create custom-made, unique decorative solutions for residential and business clients alike. Continental Industries from New York decided to take their interiors to the next level with us. They decided to ennoble their lobby area, office area, and the kitchen space with our moss wall applications. Green, lush, and refined looking, our custom green sign applications enrich this urban business space and lend it a tranquil and improved look.
Continental Industries Group, located in New York City, is a privately held global sales and distribution company that involves an extensive list of chemicals and polymers. Initially structured to import raw chemicals for the U.S. market, the company grew. Their activities are now worldwide and include several strategically located offices in The Americas, Far East, Middle East, Europe, and Russia. This is a vibrant and growing organization with many day to day activities. Our custom green sign applications make the perfect backdrop for their productivity and efficiency.
Custom Green Sign Application at Continental Industries NYC Lobby
Flowerbox Wall Gardens created this Custom Green Sign Application for the lobby of Continental Industries offices. Alluring moss custom green sign is one of the first things that you see when you enter the space. Lush green backdrop communicates energy, harmony, freshness, and safety. Traditionally associated with money, finance, and growth, this welcoming custom green sign inspires trust and efficiency, exactly what the employees at Continental Industries achieve and deliver every day.
The name of Continental Industries Group will certainly stay memorable and vivid even after it's been a while that you visited their offices. Combination of their name and Flowerbox high-quality moss and design reflects this company's style, mission, and brand. At the same time, Flowerbox custom green sign application makes the lobby of Continental Industries Group in NYC even more welcoming and friendly.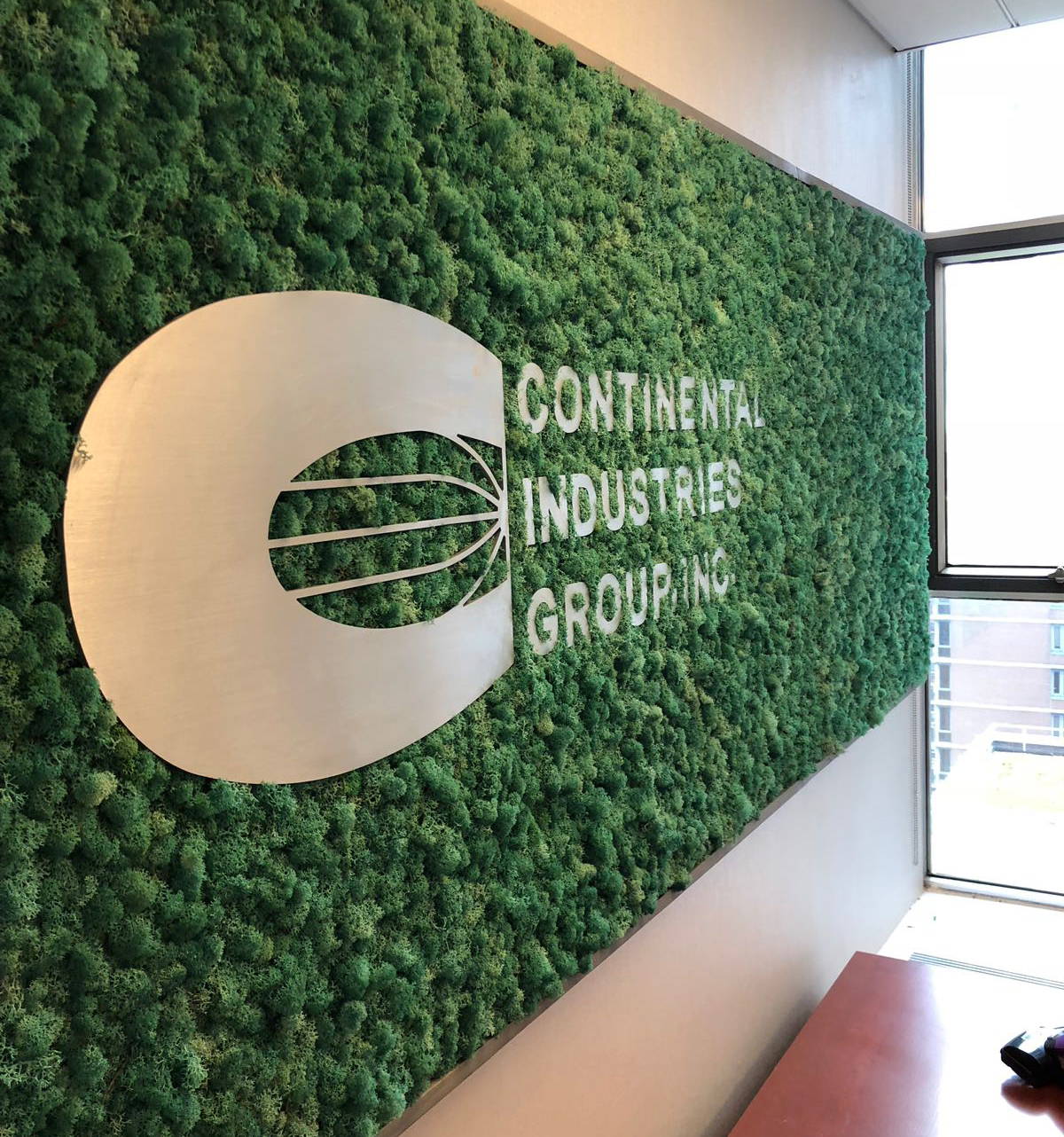 Corner Column Applications for Continental Industries Office Space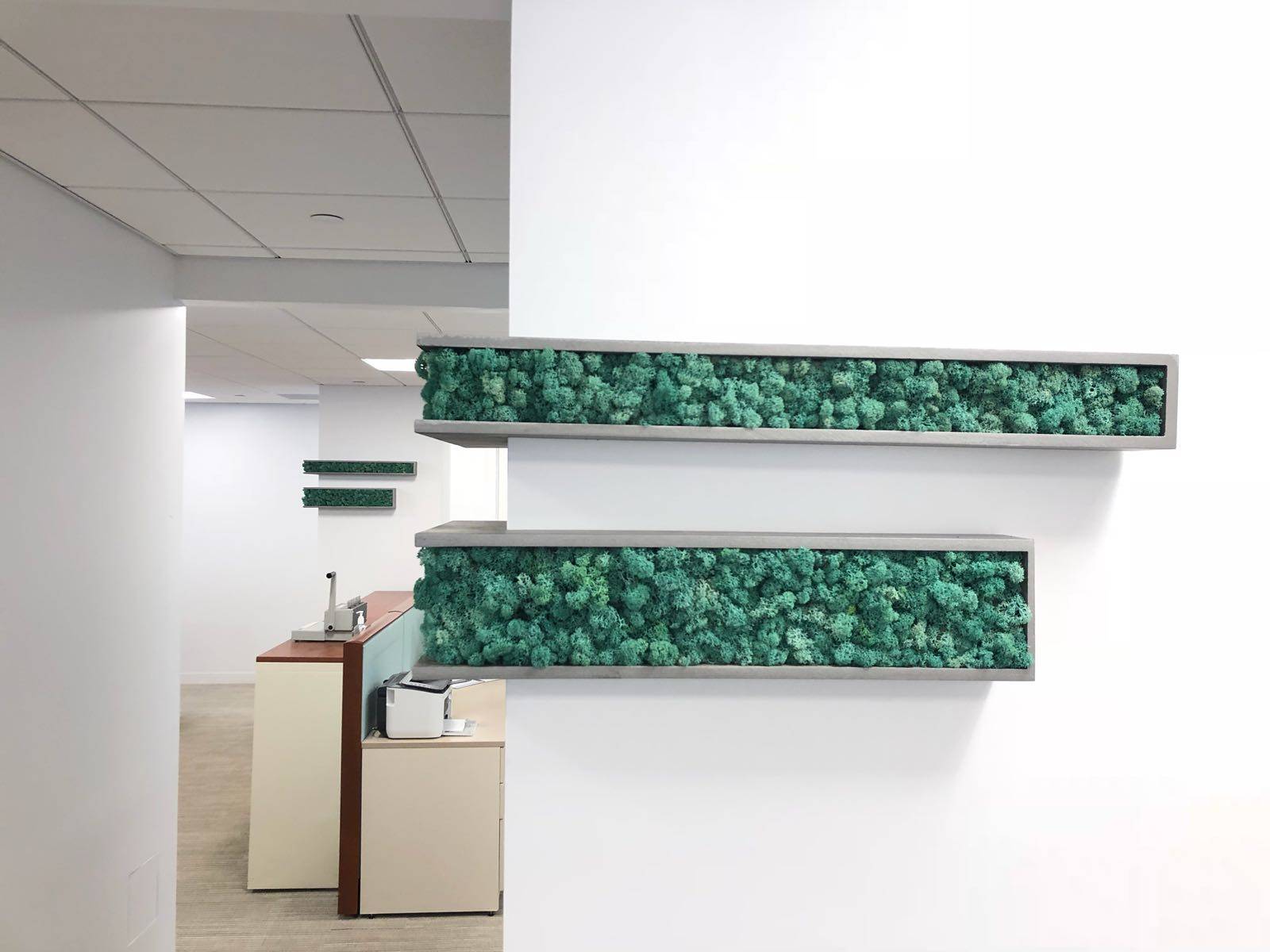 Green is the color well-known for its healing power. This is, at the same time, the color that lets us rest and relaxes us whenever we're around it. It will help enhance vitality, endurance, stability, and vision. The levels of productivity, efficiency, and happiness naturally grow in green surroundings.
That is why it was only natural to bring in the freshness of green into Continental Industries office space. Flowerbox Corner Column Moss Application was a natural and logical choice in this office interior design. An ideal background and backdrop for day to day office activities, our corner column application features sleek, minimalist box design and lush green moss. Luxuriant, exquisite looking mosses bring the rejuvenating abundance of green into this office. We attached each plant by hand to ensure their superb look and performance.
Green Accents Applications for the Kitchen Area
Green is welcome everywhere, especially in the places that nurture and sustain life. Continental Industries kitchen was the perfect space to refine it with Flowerbox Green Accents. The concept of our Green Accents is simple, yet powerful. It presents an easy way to add greenery to any space you like, residential or commercial.
Green Accents we installed in Continental Industries kitchen space present a unique wall décor. This aesthetically modern wall art looks fancy. Our kitchen sign decor gives a contemporary look not only to the to the office kitchen wall but to the whole space. Is there a better way to add a subtle touch of outdoor greenery to your business space? We don't think there is; our framed moss wall gardens bring the most effective decorative results.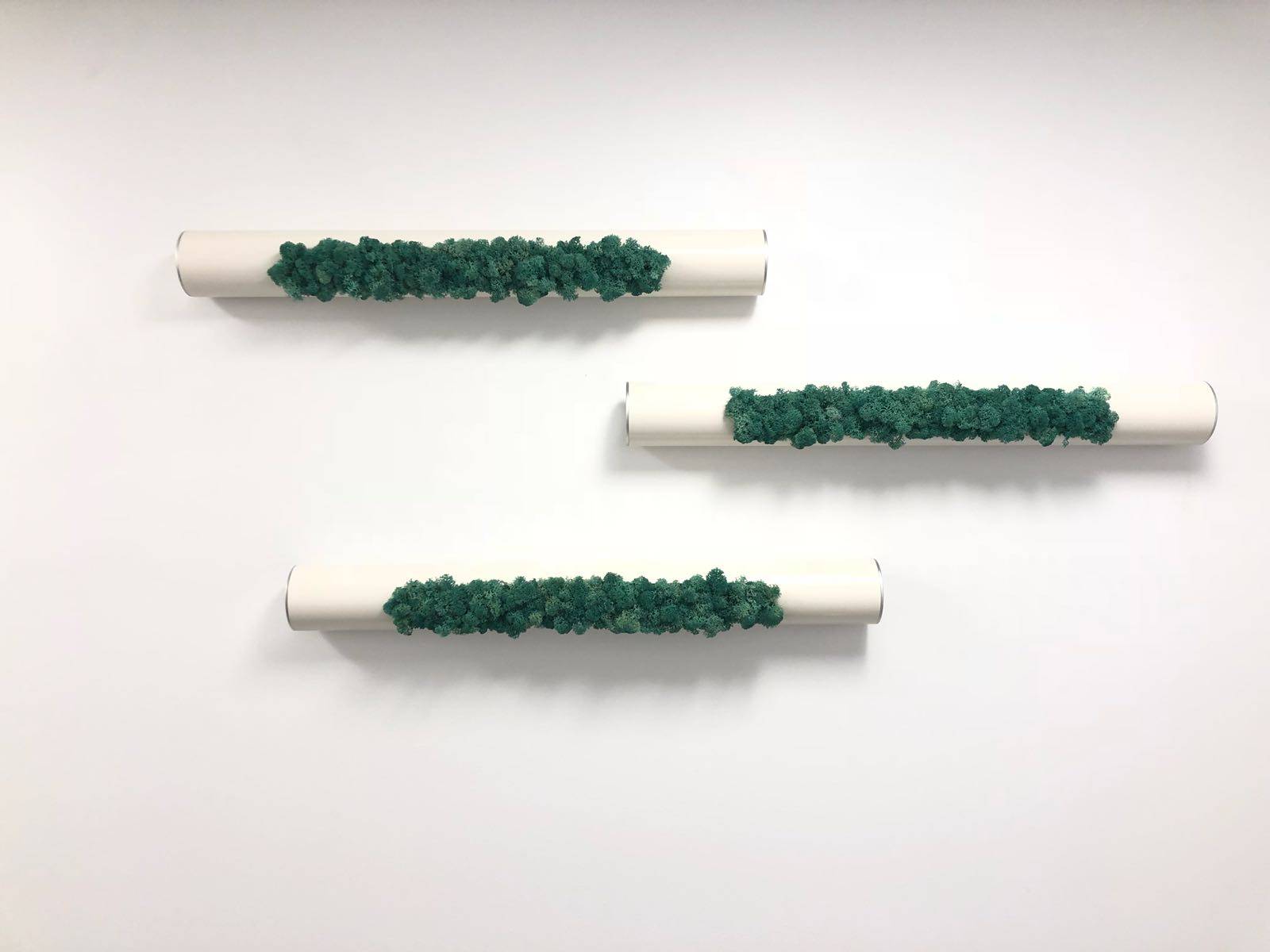 Bring Unique Looks into Your Office Space with Our Custom Green Sign Applications
Taking care of your employees and yourself means a lot of things. One of them is providing soothing and inspiring interiors. Office interiors that include our custom green signs applications, preserved wall gardens, moss signs & decor, inspire productivity, efficiency. However, they don't do only that. Our vertical indoor wall garden applications support good health, a sense of renewal, and bring more energy to the employees.
Our indoor garden wall art custom signs don't care about the season. Be it summer or winter, they stay fresh and lush, providing fresh-cut looks for 5 to 7 years. They don't need any maintenance. Being 100% maintenance-free, they are 100% worry-free. No need to water them or mist them. They also don't require soil or sunlight.
Enjoy contemporary indoor wall garden art with our custom business signs. We listen to your desires and always meet your needs. Power up your brand and refine your interiors with Flowerbox green sign applications.
Custom Green Sign Application Project
Contact Us to Get Your Business Custom Green Sign Application
Flowerbox Wall Gardens bring award-winning, sustainable green moss signs ideal for businesses and branding. Each piece we create is a custom piece, perfectly personalized and one-of-a-kind. Our work and our products are sustainable and eco-friendly. We strive to leave a carbon footprint that is as small as possible. Flowerbox quality guarantee comes with all types of mosses that we use to create custom business signs.
Our headquarters are conveniently located in New York and New Jersey. Each garden wall or moss sign piece and project is carried out here, by our talented designers and technicians. If you are located anywhere else in the U.S. we will be happy to create a custom green sign application for your business, too.
Tell us all about the ideas you have for your office, hotel, restaurant, or any other kind of business interior! We are also open to creating custom green sign applications for individual, residential clients. Contact us today and start planning your interiors with Flowerbox Wall Gardens today!