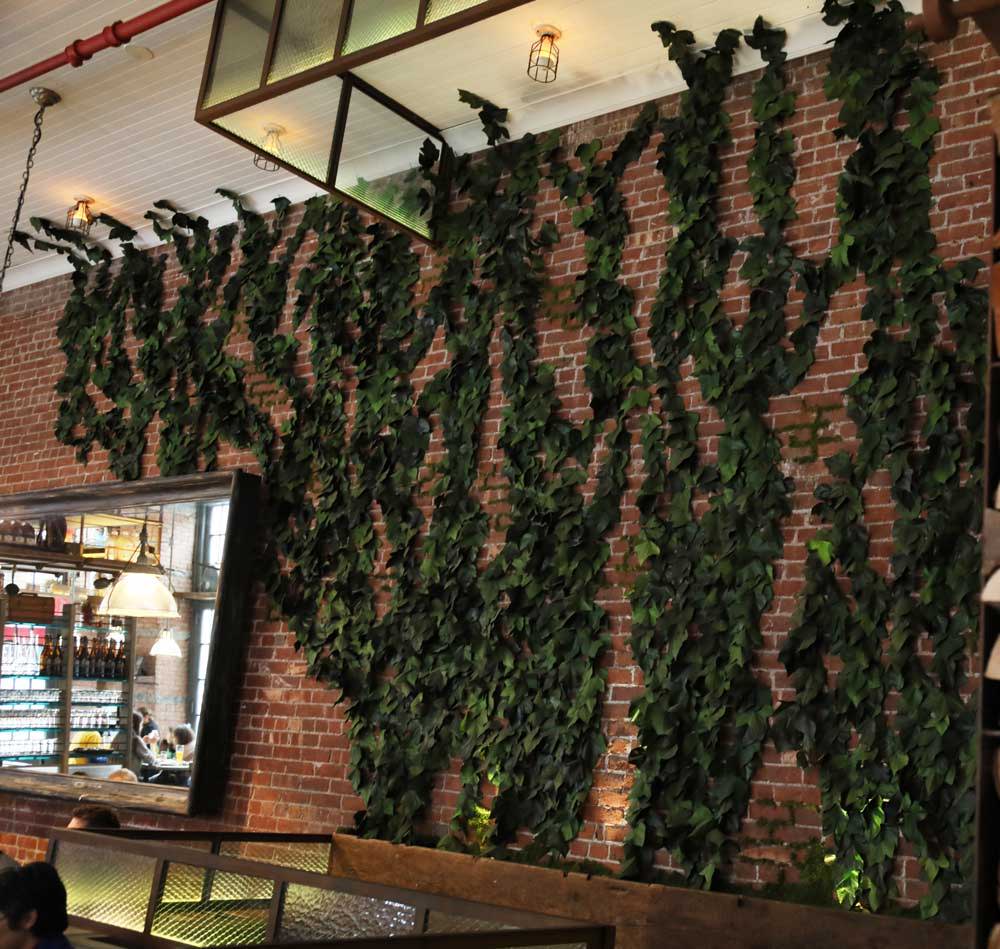 Gelso & Grand Restaurant
Client name: Gelso & Grand Restaurant
Location: 186 Grand St, New York, NY 10013
Concept used: Wall Gardens
Project Specifics:
– Ivy and Moss wall garden application on a brick wall
– Hedera Leaves
– Moss
– 5 Years Guarantee
---
In December 2017, Flowerbox Wall Gardens decorated a restaurant that used to be known as the Italian Food Center. Now called Gelso & Grand, this chic restaurant is located on a high-profile corner of Grand and Mulberry in Little Italy, NYC. Gelso & Grand has an urban downtown vibe with its dramatically high ceilings, industrial-style light fixtures, simple metal chairs, and piping. Exposed brick wall brings a rustic feel to the space. Natural and rustic vibe also comes with an open-concept kitchen and a takeout window where you can get old-school Italian sandwiches. Gelso & Grand also provides a private space for events and an outside cafe.
Decorated in a unique and simple way with a big bar, brick walls, industrial lighting, and informal seating, Gelso & Grand Restaurant in Little Italy NYC decided to give its interior a twist with Flowerbox Wall Gardens application.
Flowerbox Ivy Wall Garden Brings Natural Vibe to G&G Rustic Design
One of the most charming decor details in Gelso & Grand Restaurant in Little Italy, NYC is their beautiful exposed brick wall. Giving this space a unique character and texture, Gelso & Grand brick wall also blends past and present of the space. Flowerbox Wall Gardens team of designers accented this wall using preserved ivy vertical wall garden application. Hedera leaves form a wild, clinging evergreen ivy wall garden application. 14X35 feet ivy is preserved and guaranteed to last at least 5 years. No maintenance whatsoever is required.
Everything in Gelso & Grand looks and feels organic and authentic, starting with chefs who mill their own flour and make by hand their pizzas and pasta, to the interior design of the restaurant. Flowerbox Ivy Wall Garden Application brings even more charm to this unique space. It reminds that nature is our ultimate inspiration, both outdoors and indoors.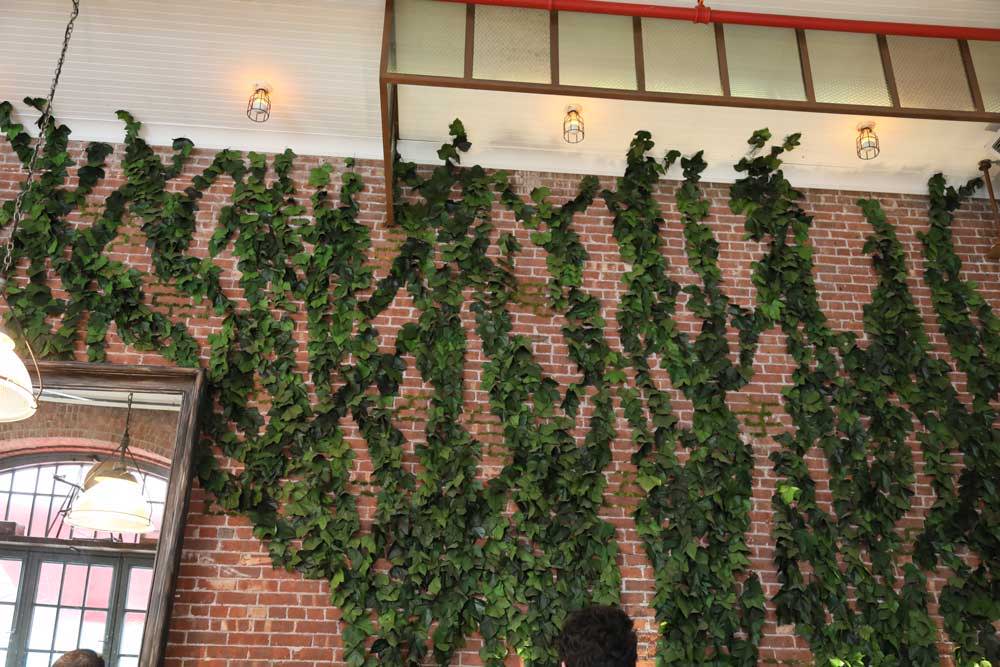 Moss Wall Garden Application for the Beauty in Details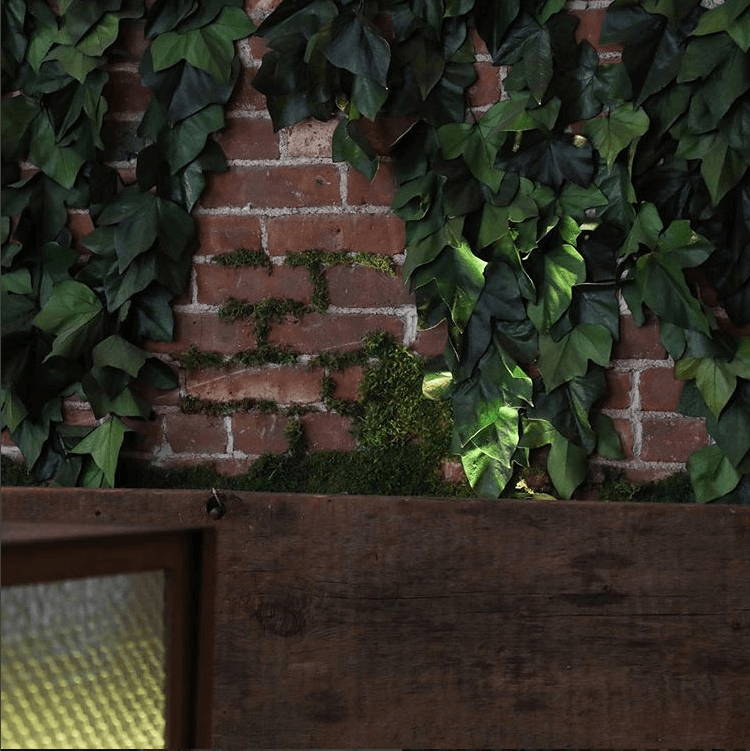 A look and feel of a real outdoor garden doesn't come only thanks to the exposed brick wall and rampant-looking, crawling ivy. Moss wall garden is also there, just beneath the ivy wall garden application. It is arranged into frames made out of rustic hardwoods. However, just like in a real outdoor garden, our preserved moss spreads on the wall, too. Unobtrusive, discreet, simple, and unpretentious, our moss wall garden application in Gelso & Grand gives the perfect natural backdrop for this restaurant's unique decor.
Sustainably harvested, our preserved moss wall garden applications are guaranteed to keep their lush, vibrant color look for at least 5 years. Safely preserved using non-toxic ingredients, Flowerbox moss wall garden applications are 100% maintenance free. This means that they don't need any watering, misting, soil, or light. Growing plants is a little bit of art and a little bit of science. But enjoying in our lush wall garden applications doesn't' require a green thumb, art, or science: only the art of enjoying.
Bring Fresh, Natural Charm to Your Interiors with Flowerbox Wall Gardens
We know how to give your authentic interior design even more charm! Flowerbox vertical wall gardens will complement your interior design with a touch of nature in a completely unique way. Our skilled and experienced technicians handcraft each piece with a true passion for their work. We use only the highest quality materials that conform to all US building regulations and requirements.
Just as we are honored and happy to bring a touch of nature, free-spiritedness, and freshness into Gelso & Grand Restaurant located in Little Italy, NYC, we will be delighted to transform your interiors. Gelso & Grand Restaurant opted for a Hedera Leaves Ivy and Moss Wall Garden application. This was the best option for their unique decor. You are free to choose from our various mosses and other preserved vertical wall garden application materials. Lush and Leafy Wall Gardens, Reindeer Moss Wall Gardens, or Bun Moss Wall Gardens can completely transform your commercial space or home interior. They can also just give a touch of outdoor nature and authenticity. Whatever is your idea, it can come true with Flowerbox Wall Gardens.
Our team of designers and technicians has a unique process and uses the highest quality materials. Once you contact us, we will listen to your ideas, wishes, and needs. Then we will start with ideation, planning, and creation. We offer consistent communication and cooperation with you at all times during the project.
Contact Us Today
Have Gelso & Grand Restaurant authentic interiors inspired you to transform your place of business, a residential building, or your own home? Flowerbox Wall Gardens works with big and small, businesses, corporate clients, big teams, as well as with individuals. Hotels, restaurants, hospitals, and private homes love our preserved wall gardens. If you would like to bring nature into your interiors, contact us today. Our Lush and Leafy Wall Gardens, Reindeer Moss Wall Gardens, and Bun Moss Wall Gardens soothe, inspire, and motivate.
Giving your ideas and visions life is our passion, just as we are passionate about our work. Seeing collaboration as an essential part of our creative process, we will communicate with you throughout the project. We can follow your instructions or present you our ideas. Contact us today for your next project!