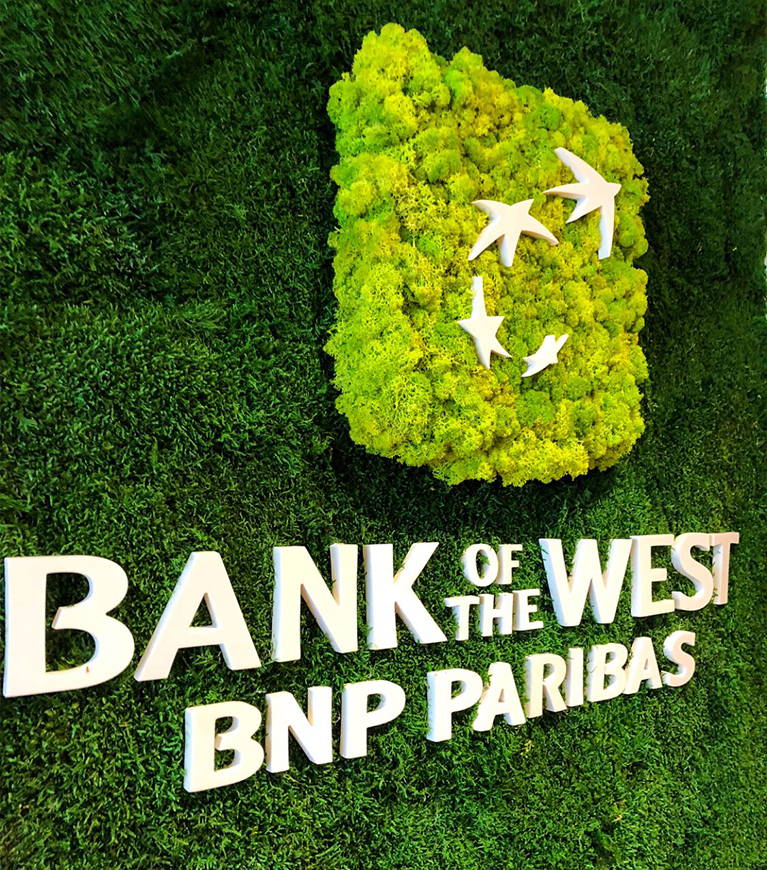 Green Moss Signs at BNP Paribas Indian Wells Tennis Garden VIP Suites
Client name: BNP Paribas Bank of the West
Location: 78-200 Miles Ave, Indian Wells, CA 92210, USA
The concept used: Green Moss Sign
Project Specifics:
– Logo Wall Gardens for VIP Suites
Materials Used:
– Flat Moss, Bunn Moss, Reindeer Moss
– 5 Years Guarantee
 
BNP Paribas Bank of the West was our client in March 2017. We created logo wall green moss sign applications "Bank of the West BNP Paribas", "BNP Paribas", and "We are Tennis" for the Indian Wells Tennis Garden VIP Suites, Palm Springs, CA, home of the BNP Paribas Open. The bank for a changing world reinvented these interiors with the unique concept and look created by Flowerbox Wall Gardens. Our Moss Signs Decor brought outdoor natural beauty to these exclusive interiors. Made from sustainably sourced mosses, Flowerbox Green Moss Sign applications at Indian Wells Tennis Gardens VIP Suites look amazing and harmoniously promote the values of BNP Paribas Bank of the West.
State of the Art VIP Suites at Indian Wells Tennis Garden of BNP Paribas
VIP Suites at Indian Wells Tennis Garden BNP Paribas Open provide the ultimate luxury experience. With their iconic, mid-century modern architecture, these gorgeous VIP suites provide all the comfort you may need while watching the action on the tennis court. All VIP suites are air-conditioned, with private restrooms and flat-screen televisions that show live broadcasts and updates of all match courts. To provide the full experience, each suite has its own spacious balcony. Functional, comfortable, and relaxing, VIP suites at Indian Wells Tennis Garden BNP Paribas Open provide everything you may need during your stay. Even food and beverage are being served.
Taking place annually in March, the Indian Wells Tennis Garden is home to the BNP Paribas Open, one of the premier professional tournaments in the world. Preparing for the annual event, BNP Paribas Bank of the West ennobled their VIP suits with Flowerbox Wall gardens green logo moss signs.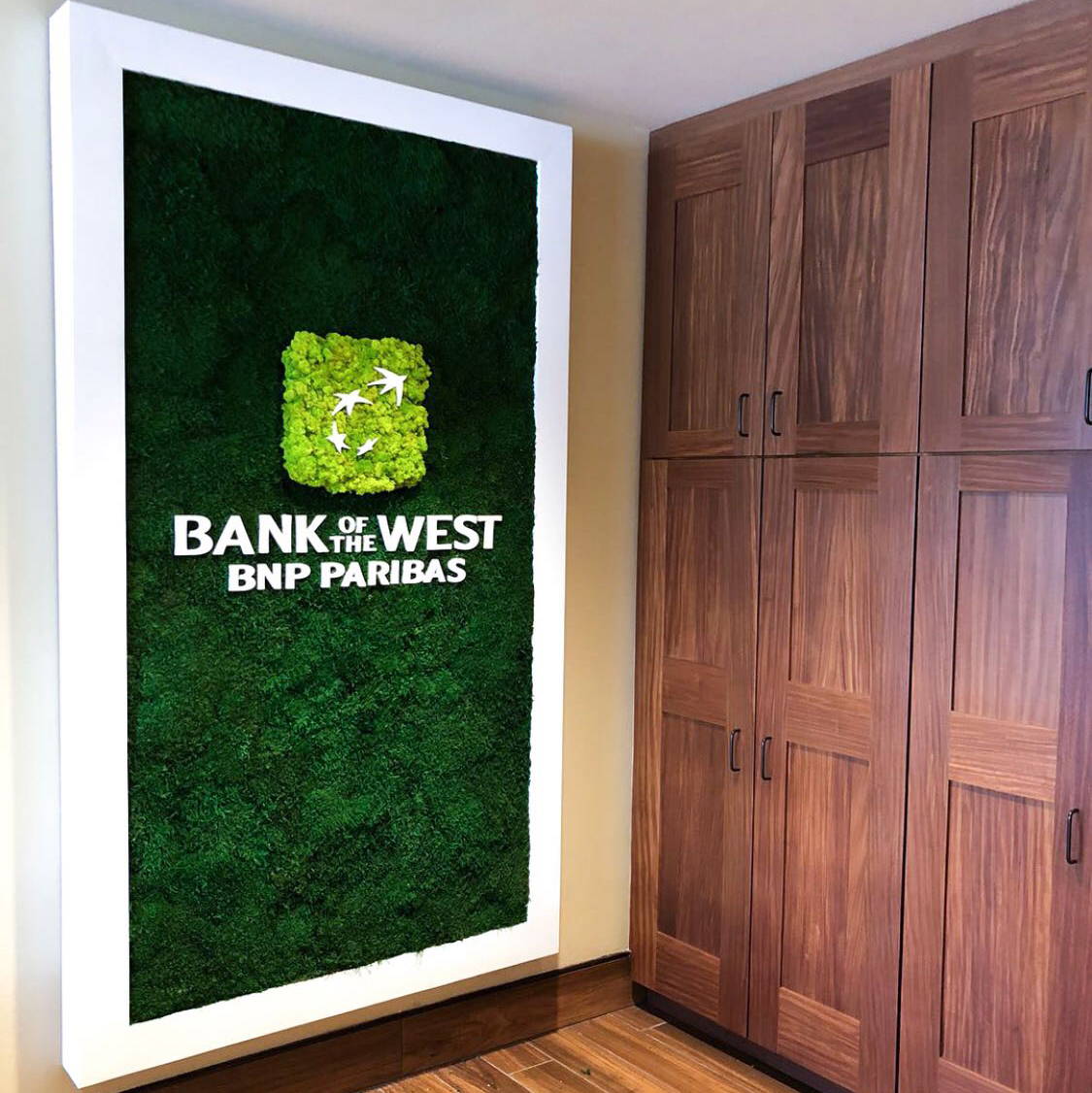 BNP Paribas Logo Green Moss Signs by Flowerbox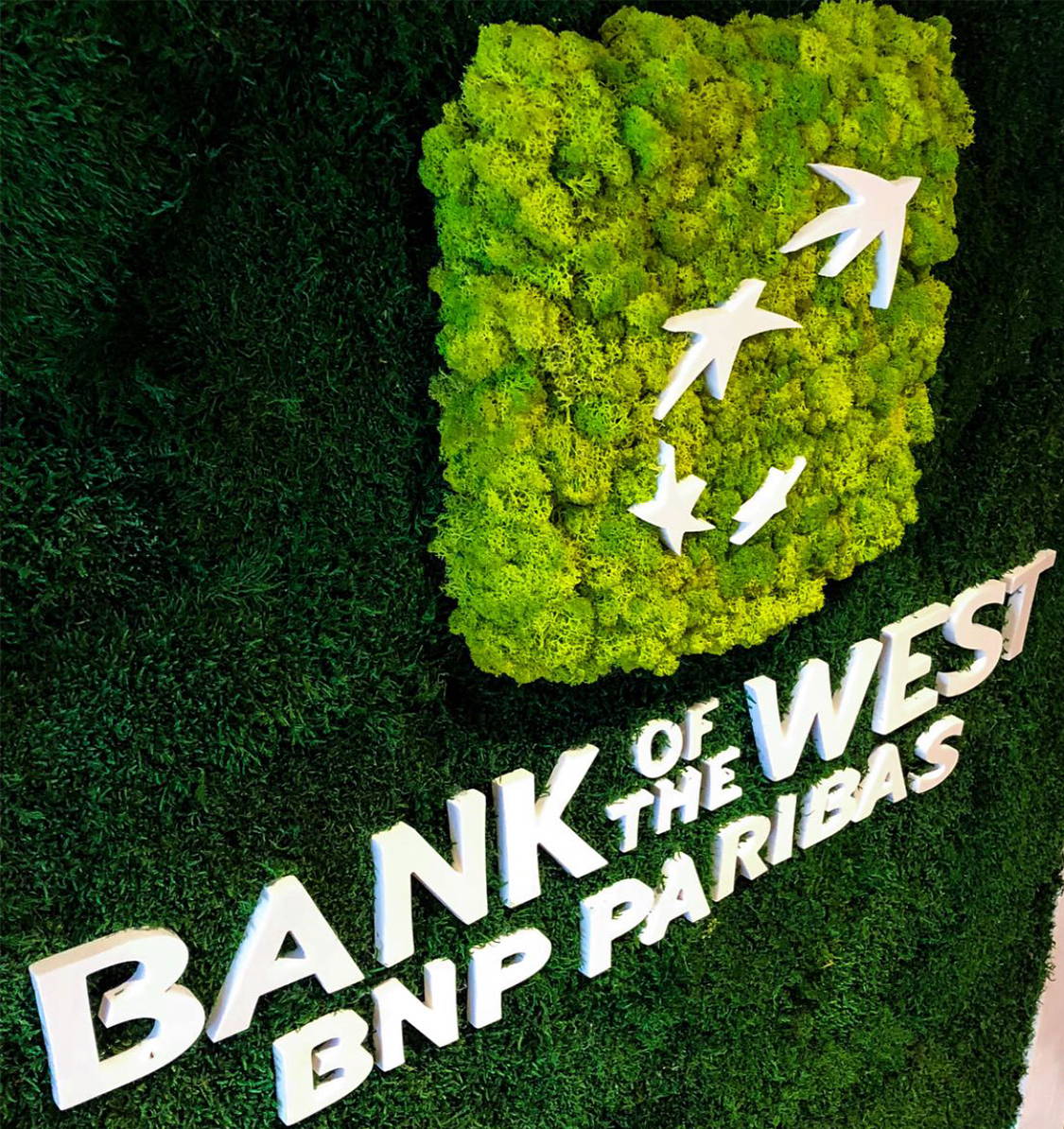 Flowerbox Wall Gardens has a unique concept recognized across the U.S. It was our honor to embellish the interior of BNP Paribas Indian Wells Tennis Garden VIP suites with the unique decor of our logo green moss signs and gardens.
Featuring "BNP Paribas" and "BNP Paribas Bank of the West" signs, Flowerbox created unique vertical wall art pieces. Our skilled technicians used Flat Moss, Bunn Moss, and Reindeer Moss to add a touch of green from the tennis court to this striking interior decor. Flowerbox deep green wall gardens bring the freshness of the plants and introduce intriguing contrasts between different mosses. We used these contrasts to recreate the logo of the BNP Paribas Bank of the West. Green as the fresh grass of the tennis courts at Indian Wells Tennis Garden BNP Paribas Open, logo green moss signs bring tranquility and serenity into these rooms. Delivering powerful and effective branding while providing instant relaxation spots, Flowerbox logo green moss signs are the perfect choice for VIP Suites at the Indian Wells Tennis Garden in Palm Springs, CA.
We are Tennis BNP Paribas Green Signs Promote the Love for Tennis
BNP Paribas Bank of the West has supported tennis for the last 45 years. Sharing the values of fair play, high performance, and responsiveness with tennis, BNP Paribas is now the leading partner of tennis worldwide. "We are Tennis" is the Group's global community of tennis fans completely focussed on the latest news from the world of tennis. It all started when BNP Paribas became the official sponsor of Rolland Garros French Open in 1973. The Group financed the construction of the center court box seats at the Rolland Garros stadium. That was their entrance to the world of tennis.
Flowerbox Wall Gardens reinvented "We are Tennis" sign using the power of green. We used three types of mosses Flat Moss, Bunn Moss, and Reindeer Moss to create WeAreTennis.com wall garden applications in Indian Wells Tennis Gardens VIP Suites. Deep, intense green color on the base of the sign contrasts the We are Tennis.com letters in light green, delicate and soft appearance. Moss in cream color brings a moment of playfulness and action. Just like on the tennis court, these green logo moss signs communicate action, the playfulness of movement, and the serenity of green. These signs enable you to easily focus just as the grass on the stadium helps players to concentrate. At the same time, the company logos in green promote BNP Paribas' dedication to one of the most popular sports of today — tennis.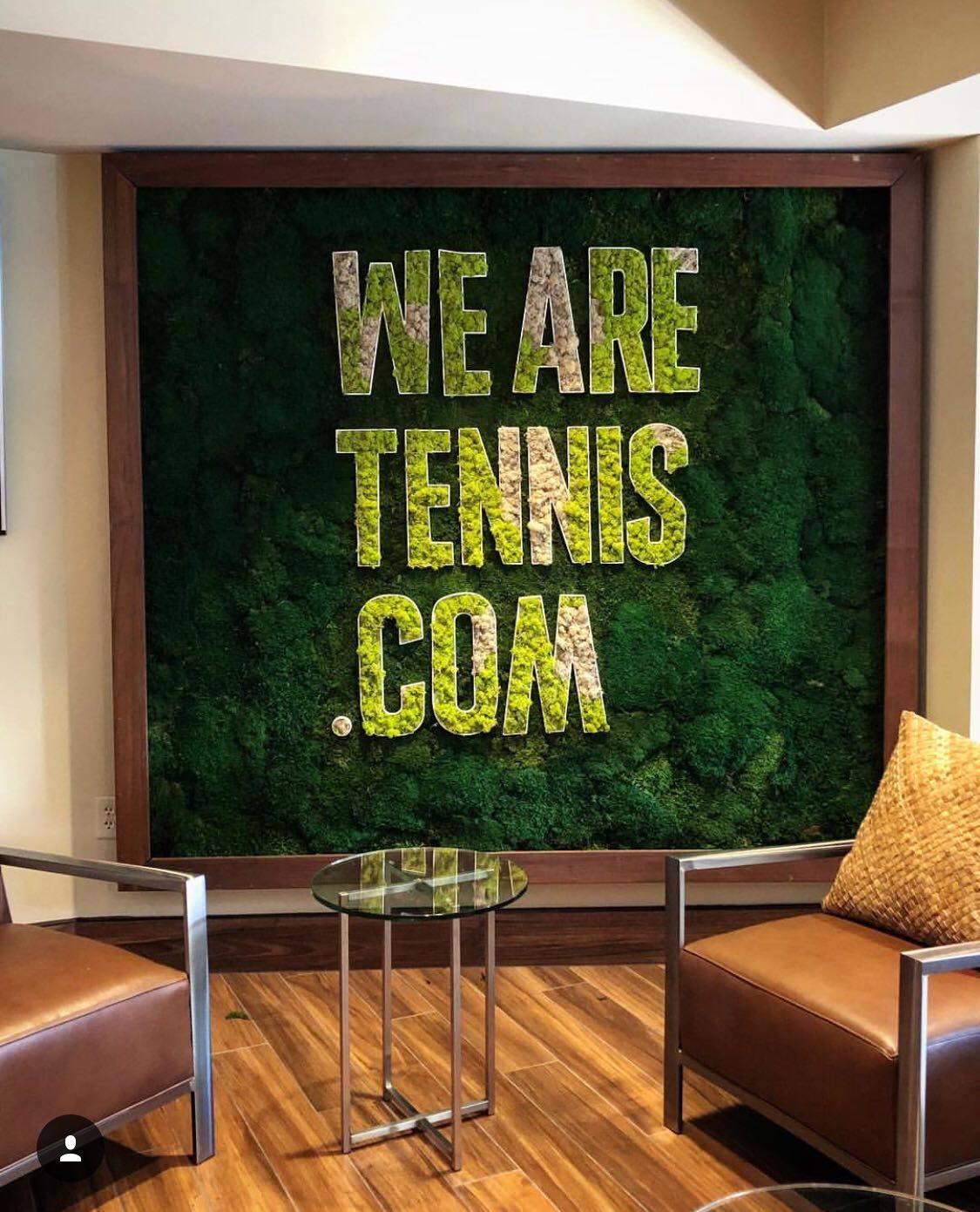 Flowerbox Logo Green Signs are Stress-Free & Maintenance-Free
Flowerbox Wall Gardens unique concept was the perfect way to achieve the look BNP Paribas wanted in their VIP Suites at Indian Wells Tennis Garden. Through the power of our gorgeous, sustainably sourced mosses, we always capture the essence of the message you want to pass and the soul of the brand you wish to promote. Each of our green moss signs is not only a composition of various green mosses flawlessly combined with each other. Flowerbox green logo moss signs can become powerful, compelling garden company logos.
We will create a company logo that is 100 percent maintenance free. From the very beginning of the process, we aim to provide the most efficient and top quality service. We start off by carefully listening to your idea and continue by implementing our authentic creative process. Flowerbox technicians and designers develop vertical corporate gardens, VIP gardens, and logo wall art using mosses, leaves, and ferns of the highest quality.
Exquisite, unmatched look is always guaranteed but it's not the only thing that it will amaze you. When you get Flowerbox company logo, you won't have to maintain it at all. Feel free to forget everything you knew about live plants maintenance. Our green sign and wall gardens don't need any watering, misting, light, or soil. On top of all, we guarantee their fresh-cut, vibrant appearance for a minimum of 5 years. To last you even longer than 5 years, try to keep them away from the direct sunlight and let them stand in a room temperature.
BNP Paribas Bank of the West
Contact Flowerbox Today for Your Green Moss Sign Company Logo
Flowerbox team invites you to imagine your company logo in the green shades of our reindeer moss, flat moss, and bun moss. High-quality company logo or vertical corporate gardens can speak tons about your brand and your company's dedication to eco-friendly, sustainable solutions. Bring the serenity and a sense of wellbeing to your office and redefine its design. Make your company logo memorable with Flowerbox green sign concept.
Flowerbox guarantees the quality and longevity of each green moss sign and wall garden. After 5 years, you can call us again and change your arrangement. We offer special discounts for returning customers.
Give your office a new, fresh vibe. Contact Flowerbox today.