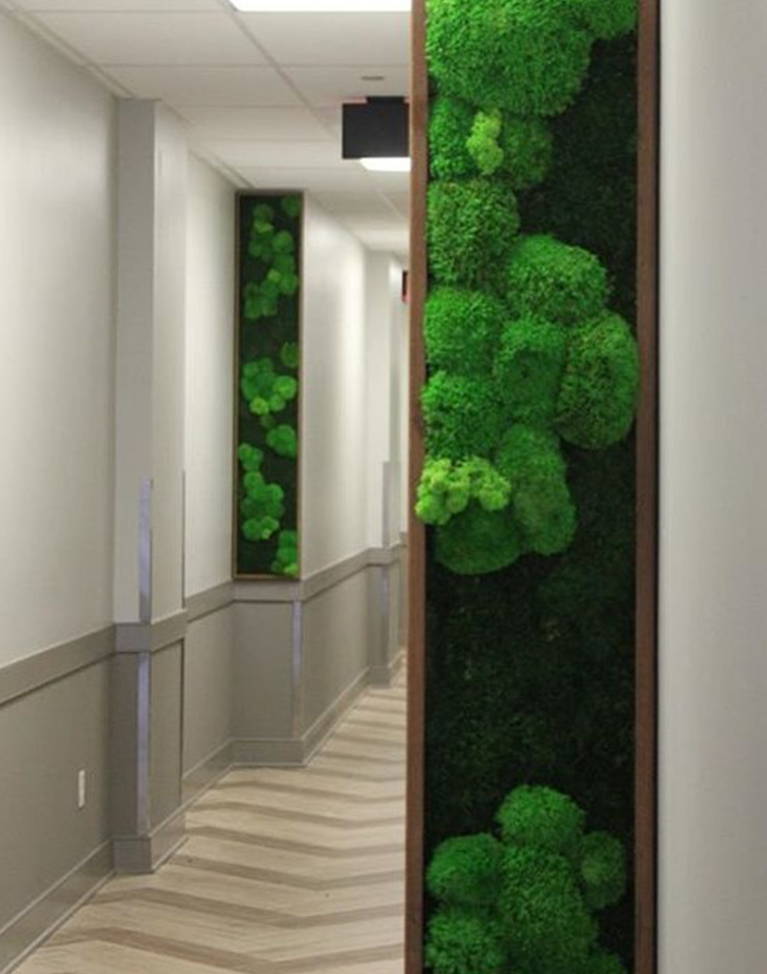 Green Sign and Wall Garden Project
Client name: Element Flats
Location: 532 Jersey Avenue, Jersey City, NJ — 07302
Concept used: Green Sign, Wall Garden
Project Specifics:
– Floor Numbers
– Hallway Wall Gardens
– Green Signs
Material Used:
– Flat Moss
– Bun Moss
– Reindeer Moss
– 5 Years Guarantee
---
Jersey City is getting greener! Flowerbox completed another residential project with stylish green accents and Ipe, Brazilian Walnut wood frames. We created Floor Numbers, Hallway Wall Gardens, and Green Signs at Elemental Flats, a residential building located in Jersey City.
Located in the heart of downtown Jersey City, Element Flats is a luxury apartment complex that offers a vibrant lifestyle. Element Flats are just two blocks from the Grove Street Path and a short walk away from the Hudson River. Easy access to all of Jersey City, New York, Manhattan, and beyond, to great restaurants and many entertainment options, as well as to a lot of public transit options is just a few minutes away from your apartment when you live at Element Flats.
The apartments at Element Flats Jersey City are open, bright, and airy. This is a pet-friendly place with luxurious amenities and a rooftop deck with fire pit. On top of all that, Element Flats interiors are sustainable and eco-friendly.
When you live there, you enjoy many luxuries but you also relish every day in breathtaking Flowerbox wall gardens and green signs. Unexpected, powerful green interior decor brings the beauty of outdoors into your living space and inspires you to take pleasure in potent details.
Floor Numbers Green Signs Elevate Element Flats Interior Design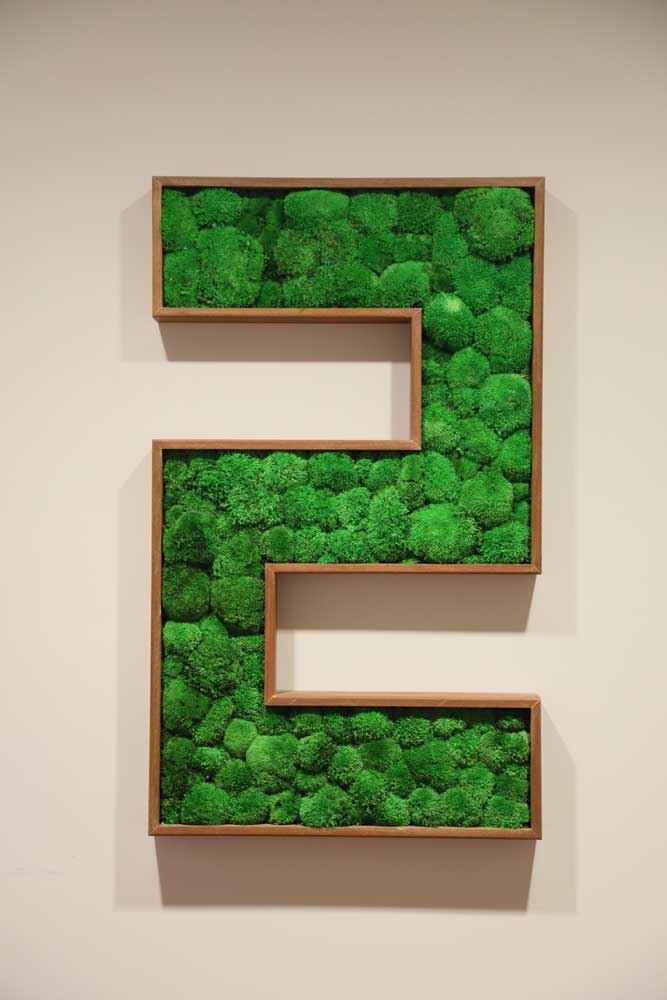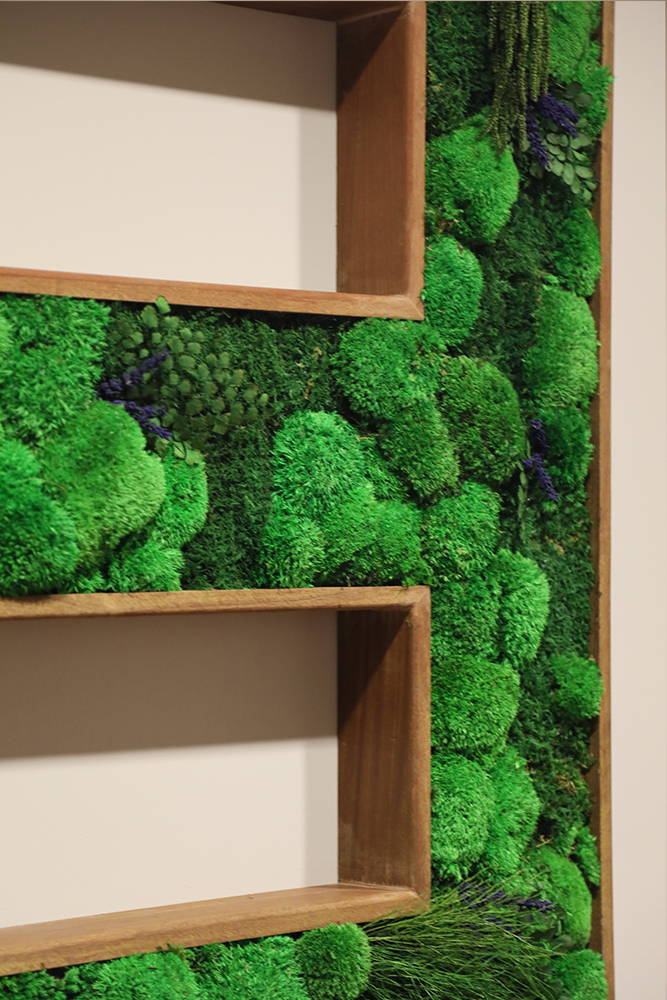 Step into Element Flats, a luxury apartment complex, and start ascending its floors. Track your progress with unique Floor Numbers created by our talented designers and technicians. Each Floor Number comes in 4′ size. We used Bun Moss to create a rich, lush look and placed it into Ipe, Brazilian Walnut wood frames. Extremely dense and durable, Ipe wood frames will keep Flowerbox green signs to stay just as they are now for at least another 5 years.
Flowerbox used preserved Bun Moss to give raised appearance to these Floor Numbers. Compared to Flat Moss and Reindeer Moss, Bun Moss has a more voluminous look. It is perfect for creating a rich, deep, profound look. Subtle tonal differences, as well as differences in size, depth, and shape of individual bun moss, contribute to the overall unique look of Floor Numbers Wall Art pieces.
Lobby Area Green Sign to Welcome Everyone at Element Flats
You will never get a second chance to make the first impression. Element Flats know the importance of initial impact and how you make people feel when they first interact with your brand. For residential buildings, the lobby area is the best place to make the first impression. If you can make it powerful and memorable, you should do it. Flowerbox crafted a unique looking lobby green sign at Element Flats. Capital L for Lobby.
We combined Flat Moss and Bun Moss to create the look that absorbs and instantly replenishes. The dark green, light green, and all tonal green varieties in between generate exquisite, marvelous look. We made this green sign in the lobby area of Element Flats in size 4'H.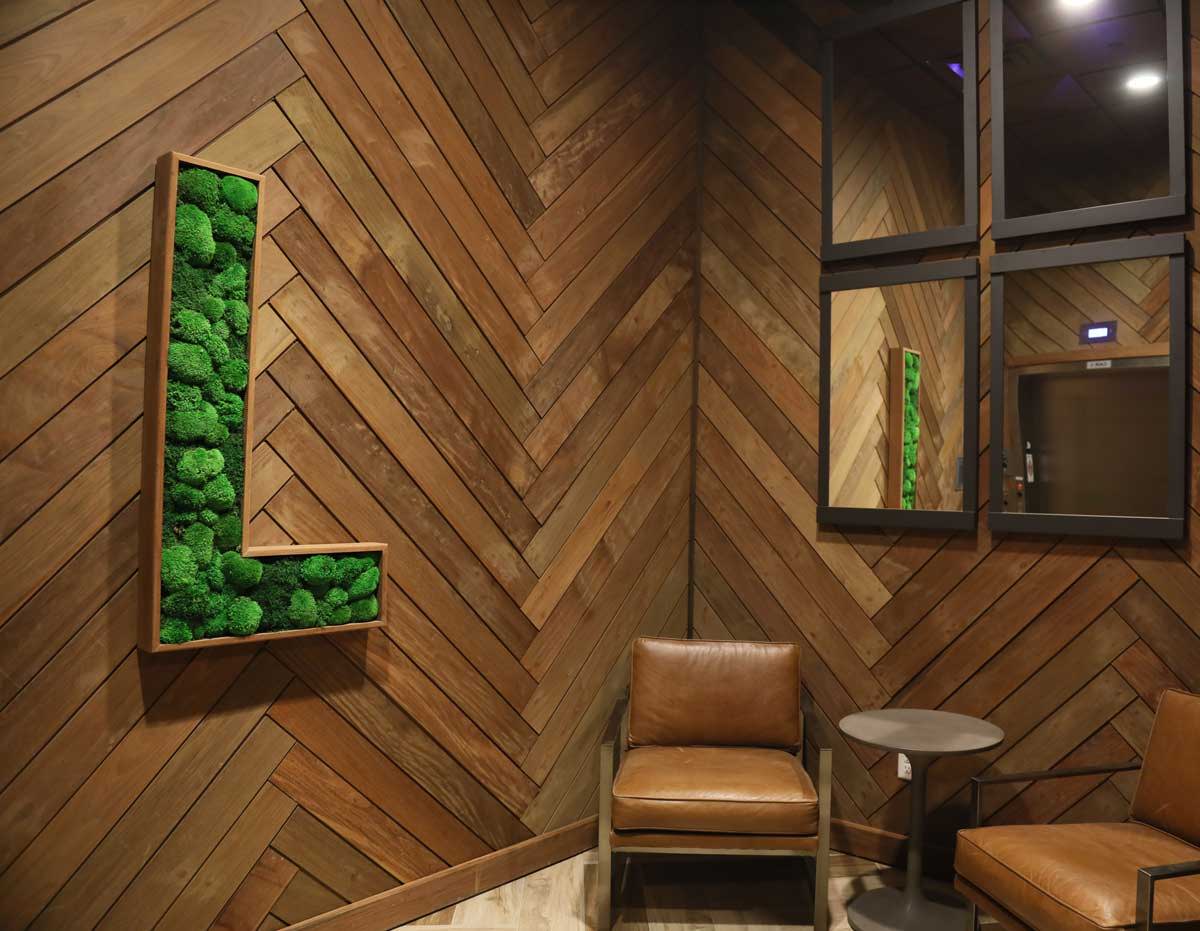 Flowerbox Wall Gardens Reinvent & Refresh Hallways at Element Flats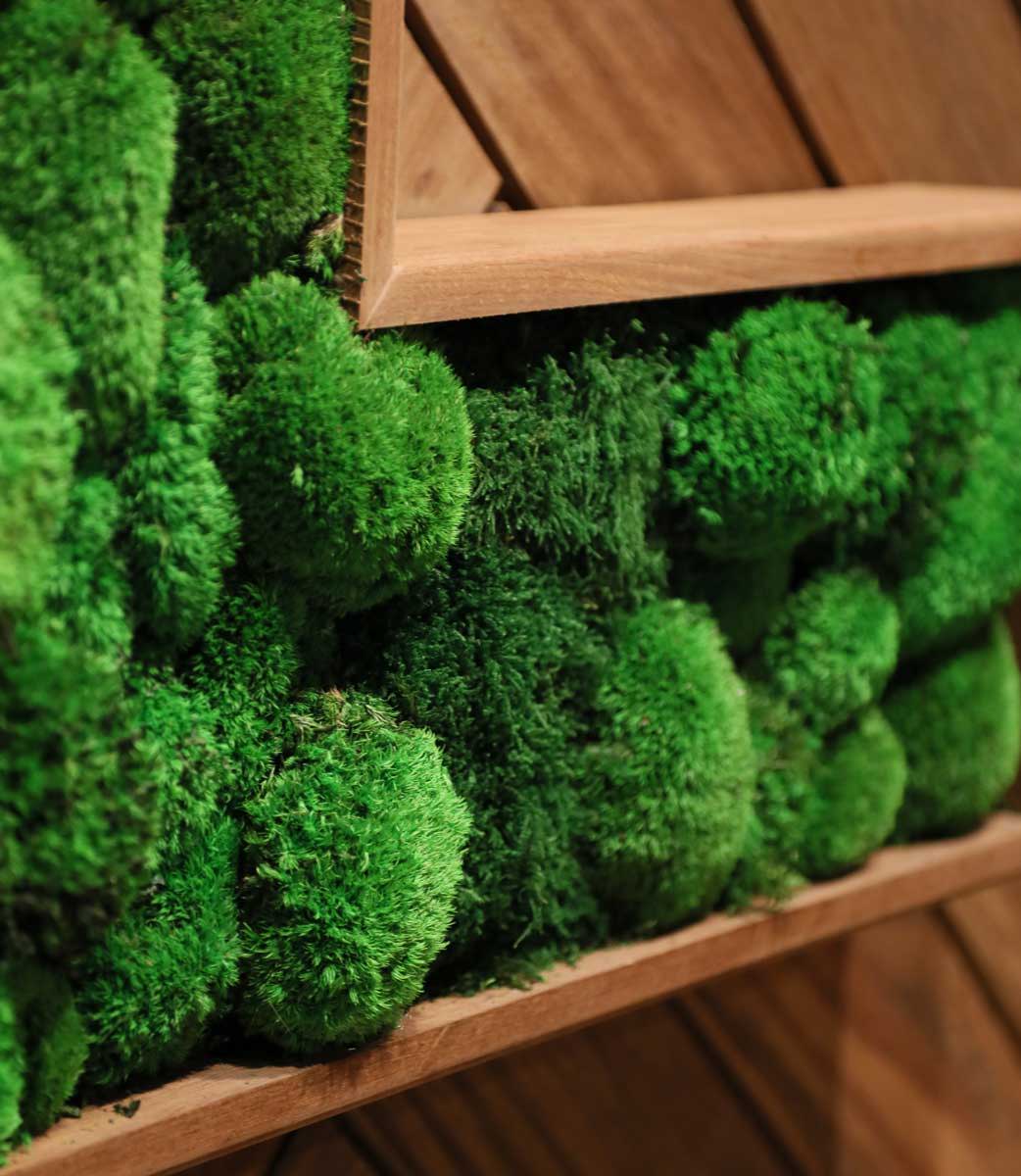 Flowerbox brings an abundance of green power to any interior. We design options that we will be the best for your interior space and deliver custom sizes, custom arrangements, and custom frame options. We put no boundaries to what you can accomplish with us. Hallways at Element Flats prove this. There are many hallway decorating ideas but Flowerbox Wall Gardens surpass and outshine them all.
Unexpected, intriguing, subtle and classy, these hallway wall gardens bring a feeling of luxury and indulgence. Hallways can be smart spaces used for more than just for passing through them. Thanks to Flowerbox Wall Gardens, hallways at Element Flats surpassed their regular function and became spaces that inspire and provoke. They make you question your everyday interiors and make you rethink the space you live in.
These preserved vertical wall gardens are made of Bun Moss and Flat Moss, in Ipe, Brazilian Walnut wood frames. We attached each plant by hand to ensure 100% of their performance and preserved them using a non-toxic glycerin-based stabilizing solution.
Green Sign and Wall Garden Project  
Flowerbox Green Accents Bring New Life into Everyday Interiors
We love working with Bun Moss, Flat Moss, and Reindeer Moss. They are the key to any successful wall garden art. Bun Moss brings a voluminous effect, Flat Moss provides more of a nature-inspired look, while Reindeer Moss makes a dramatic accent. Its natural gray to greenish light color and a 3-dimensional branching with a bushy appearance makes any of our wall gardens of green sign applications true pieces of art.
Set in Ipe wood frames, Flowerbox green accents specially made for Element combine these three types of mosses into perfectly balanced wall decor piece.
The mosses that we use are sustainably grown, harvested, and preserved. We import them from Europe and preserve them in an organic, eco-friendly way. The result is 100% maintenance-free wall garden art that doesn't require any watering, misting, sunlight, or soil. The only thing that can be done to make them look their peek is to occasionally dust them using a feather duster. Their soft, supple appearance is guaranteed to keep its fresh look for at least 5 more years with no maintenance whatsoever.
Contact Flowerbox to Make Your Residential Project Unique with Wall Garden Art
Flowerbox works with commercial and residential, big and small clients, with teams as well as with individuals. We are passionate about what we do and only satisfied with the best results. Carefully listening to your ideas, we give your visions a physical appearance, making sure that they produce effects you wished for.
Before you contact us, it is important to know that we always do custom work. That means that you can get inspired by the projects our team did. However, know that your unique ideas can become true with us. Your visions and wishes will be our guiding light while we create a wall garden or a green sign just for you. We believe that your interior should reflect and complement your needs and we will deliver wall garden art that you will love.
Contact us today to start working on your interior project.