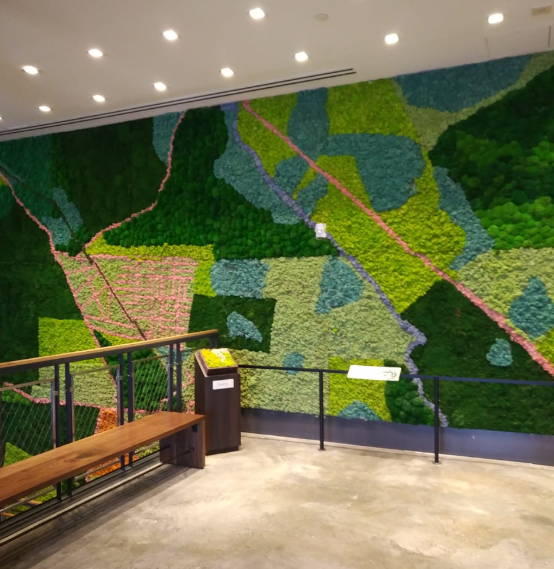 Hilton Maryland Wall Garden Project
Client name: Canopy by Hilton Washington DC Bethesda North
Location: North Bethesda, Maryland
Concept used: Wall Gardens
Project Specifics:
- 10 different Moss Types and colors
- Largest Moss Application in the U.S.
- Leed Certified Project
- 5 years Guarantee
---
The most amazing work is the one where you sync with your client right from the start. Or, should we say - from the blueprint. When the brainstorming is really storming ideas, you know it is going to be a successful project.
Flowerbox Wall Gardens concept resulted in the beauty of nature indoors

Placed in the beautiful Rose Avenue, of North Bethesda, Maryland, lays the Canopy by Hilton, a perfect place to work, play, and relax. At their busiest hour, the staff as well as the visitors, can simply glance at the our Moss Tranquility Spot for its instant, mesmerizing beauty and calming effect of Moss Decor. Spanning two floors up, our Preserved Living Moss Wall Art installation
originally illustrates an aerial view of the beautiful Pike & Rose neighborhood. This Moss Application is so much more than a decorated wall garden. It is a cohesive space that provides a consistent green cover blending seamlessly with the architecture starting from the lobby area and reaching up the two floors above.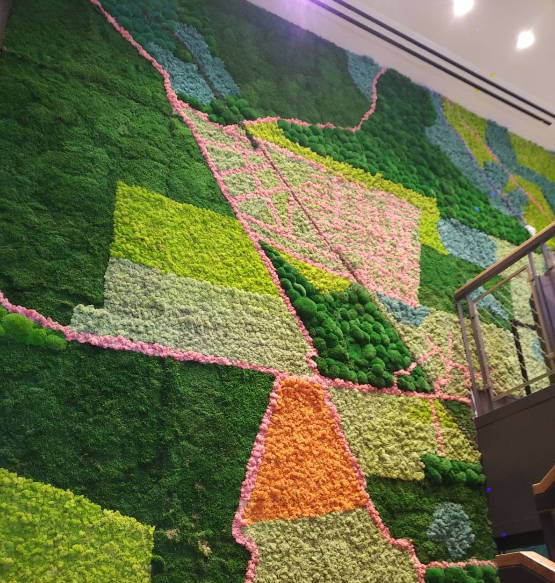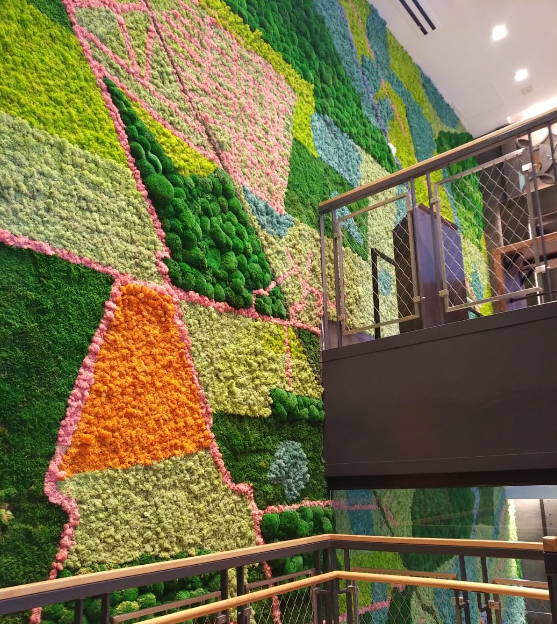 For the creation of this Moss Wall Art we have utilized 10 different Preserved Moss Types
We have worked with institutions, architects and landscape designers, retail outlets as well as private homeowners on projects of varying scales, delivering quality and timely solutions for each. In the architecting of this Leed Certified Project our in-house team of horticulturists, designers, engineers and installers ensure the customization of our Wall Garden solutions with complete attention to details. For this particular Moss Application, we have constructed a large retaining structure, utilizing the palette of moss and colors based on the design preferences of the client. More specifically, for the creation of this Moss Wall panel we have worked with 10 different moss: Flat Moss, Bun Moss, and so much as 8 different Colored Reindeer Moss. All perfectly arranged into a "green zone" wall covering 2 floors, becoming a largest Moss Application in the USA. The effects of soothing and meditative quality that this vertical moss garden brings into hotel's busy environment creates a unique experience. Our different types of Flat Moss, Bun Moss and the variety of Reindeer Moss colors, give this Hilton an instant rejuvenating green fix. From covering the lobby area with preserved plants to an impactful couple of floors featuring a green wall. This spectacularly fresh backdrop, a green space, unique in its artistry by being so much more than the sum of its parts, brings a genuine serenity and calmness to the busy hotel atmosphere. You would want to sit next to it just for the astonishing impact of its charm and beauty. It contains sparks of nature's green magic alluring people to connect to it. See for yourself!
Benefits of the Preserved Moss Wall Gardens
Unlike Living Wall Garden solution, this leak-proof, nuisance free Moss Wall art piece is made with 100% real, Preserved Moss for a maintenance-free, worry-free experience. The zero post-installation challenges also contribute to the overall cut of expenses for the client.
Extended value of using one of Flowerbox's Preserved Vertical Garden Solution, is to show your company's consideration towards sustainability.
This indoor piece of Preserved Moss Wall Art will stay fresh, vibrant and green ahead for a period of 5 years Guaranteed.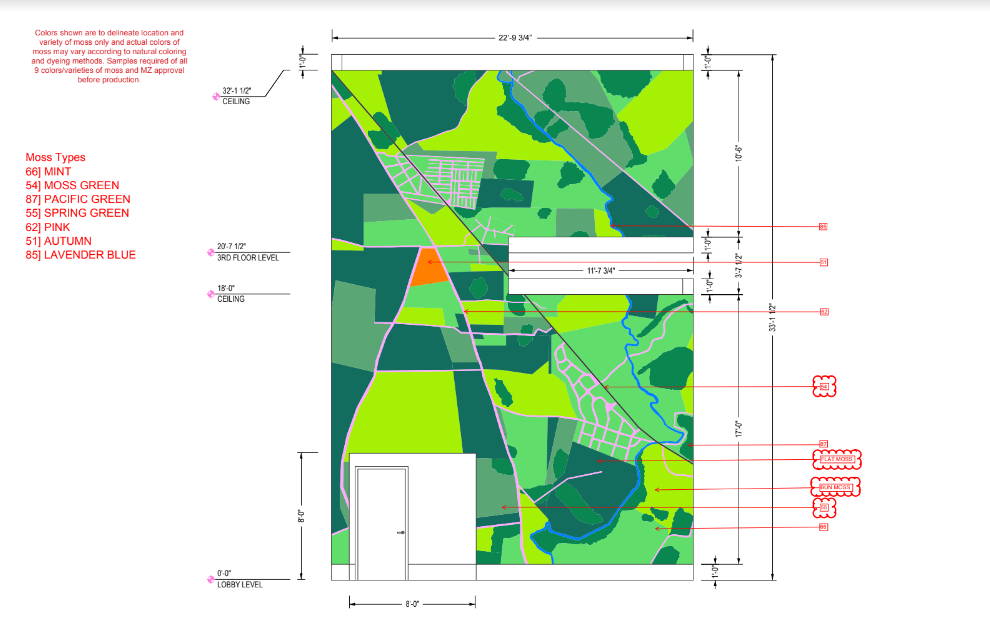 ---