Ignitia Coworking Space Wall Gardens Project
Client name: Ignitia Coworking Space
Location: 1002 Dean St, Brooklyn, NY 11238
Concept used: Wall Gardens
Project Specifics:
– Wall Garden Application for the meeting room
– Round Wall Gardens for the lounge area
– Moss Logo Application for the entrance
– Moss Wall for the entrance booth
Materials Used:
– Flat Moss, Bun Moss, Reindeer Moss
– Hedera Leaves, Amarantus
– 5 Years Guarantee
Flowerbox Wall Gardens believes that inspiring interiors can make wonders for productivity, health, and overall well-being. Ignitia coworking space, based in Brooklyn, NYC, is one of such places. Led by the vision that the right people, brought together in the right place, can accomplish wonders, Ignitia strives to create an ideal space for everyone who needs a place to work. Their office is a stunning, spacious place. It occupies the building in Brooklyn that once served as a Studebaker service station. It underwent an exhaustive, thorough renovation before it re-opened. Situated in the building with a historic importance, Ignitia coworking space is a popular place to work in NYC.
Flowerbox Wall Gardens team of designers and technicians were entrusted with creating a soothing and motivating decor at Ignitia office space. We designed and handcrafted the Wall Garden application for their large meeting room. Round Wall Gardens were ideal for the lounge area, while Moss Logo Application was placed on their entrance. We also created Moss Wall for the Ignitia entrance booth.
Flowerbox Award-Winning Moss Wall Gardens Bring Beauty & Function to Ignitia Office Space
Everyone who works in an office or from home knows how important interior is for their success. Motivation, energy, and inspiration are directly linked to the decor that surrounds you. People who run Ignitia coworking space in Brooklyn NYC know that a beautiful environment created with passion inspires. This is why they created a special hub for people who run startups and small businesses in NYC. Because of its unique look, sleek, minimalist design and distinctive ambiance, Ignitia remains an incomparable office space for everyone who wants different, better, more. Ignitia simply redefines our expectations from an office space.
They certainly made a difference when they called us to bring the beauty of outdoors to their interiors. Realizing the positive effects of the natural green surroundings, Ignitia Office hired us to decorate their interiors with our unique vertical wall gardens. Using different types of mosses and other preserved plants, Flowerbox Wall Gardens brought natural beauty to the Ignitia coworking space interiors. The beauty followed function. Just by looking at them, Flowerbox preserved moss wall gardens improve mood and cognitive performance. They also successfully reduce stress.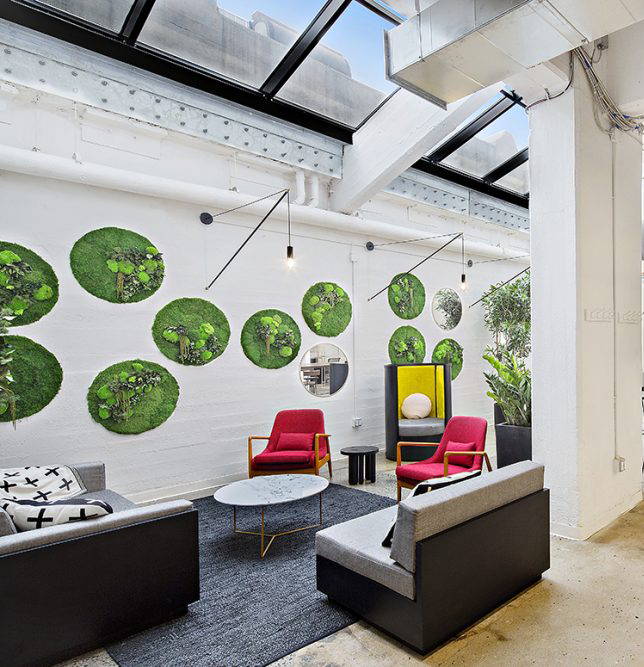 Moss Wall Garden Applications for Enhanced Focus and Inspiration
Just like its name comes from word ignition or to ignite, Ignitia coworking space introduces a new concept in office interior design. By incorporating our preserved moss wall garden applications into their interior decor, Ignitia added excitement, fresh energy, and a unique momentum to this urban workplace interior.
Moss Logo Application will be one of the first things you will see at the entrance of Ignitia coworking space. Entrance booth is refined with Flowerbox Moss Wall. The focus point of Ignitia's large meeting room is our Wall Garden Application. Many Round Wall Gardens found their places on the walls of the lounge area. Our skillful team of designers and technicians created these vertical wall gardens for Ignitia Office using three different types of mosses and a few more preserved plants. Flat Moss, Bun Moss, Reindeer Moss, Hedera Leaves, and Amarantus joined to provide a totally unique interior decor and working experience.
Strategically positioned so that everyone working at Ignitia coworking space can benefit from them, Flowerbox wall gardens inspire, help with focus, and soothe. When people are in the natural environment, they function better. Although physically being in nature is better, being able to look at and absorb even small portions of it, makes wonders for our well-being. So, when choosing a coworking space, choose the one with the view of nature. Allow yourself to be motivated, inspired, and soothed by the natural beauty of the outdoors. Choose Ignitia Office in Brooklyn in NYC. And make sure to take breaks between tasks. Come to the lounge area and unwind easily just by looking at our calming, comforting moss wall gardens applications.
Improve Both Interiors and Well-Being with Flowerbox Wall Gardens
We know how to give your specific interiors character, charm, and allure! Flowerbox vertical wall gardens will make your interior decor attractive, modern, and in-line with the most forward concepts in interior design. Not only you will incorporate great design. You will also connect with nature everyone who spends time in this space. Using only the highest quality materials that conform to all US building regulations and requirements, Flowerbox Wall Gardens bring the beauty of outdoor nature onto your walls in a completely unique way.
Just as we are happy to bring a touch of nature, and with it, focus, motivation, inspiration, and relaxation into Ignitia coworking space in Brooklyn NYC, we will be pleased to refine or transform your office or coworking space. Ignitia Office opted for wall garden applications compiled of Flat Moss, Bun Moss, Reindeer Moss, Hedera Leaves, and Amarantus. Handcrafted in an original way and tailor-made to fit their unique interior decor, these preserved wall garden applications refine the space and give it exquisite charm.
We invite you to let us know what you had in mind. Tell us all about your ideas. Our various mosses types and other preserved vertical wall garden application materials are sustainably sourced and imported from Europe. Lush and Leafy Wall Gardens, Reindeer Moss Wall Gardens, or Bun Moss Wall Gardens can upgrade your office and coworking space in an unexpected way. Bringing in a touch of nature can bring a rush of new, fresh ideas and original thoughts and concepts. Contact us and see what we can do for you.
Contact Flowerbox Wall Gardens Today for Your Next Decoration Project
Has Ignitia coworking space in Brooklyn NYC unique interior inspired you to upgrade your office or coworking space? We work with anyone who shares our love for nature. Nothing inspires us as sharing a passion for improving spaces where people live and work for their benefit and well-being. Our Lush and Leafy Wall Gardens, Reindeer Moss Wall Gardens, and Bun Moss Wall Gardens bring inside the lush, vibrant beauty of outdoors according to your requirements. They look amazing and always different. This depends on your specific needs and wishes. Handcrafted and custom-made, Flowerbox Wall Gardens motivate, reduce stress, improve mood, inspire, and help you unwind.
You can opt for Wall Gardens or Moss Signs & Decor, or both. Never having to worry about the maintenance is another upside of our vertical preserved wall gardens. We expect that this will make you even more satisfied with the choice you made.
We can't wait to hear your ideas and to make your vision come to life. Contact us today!