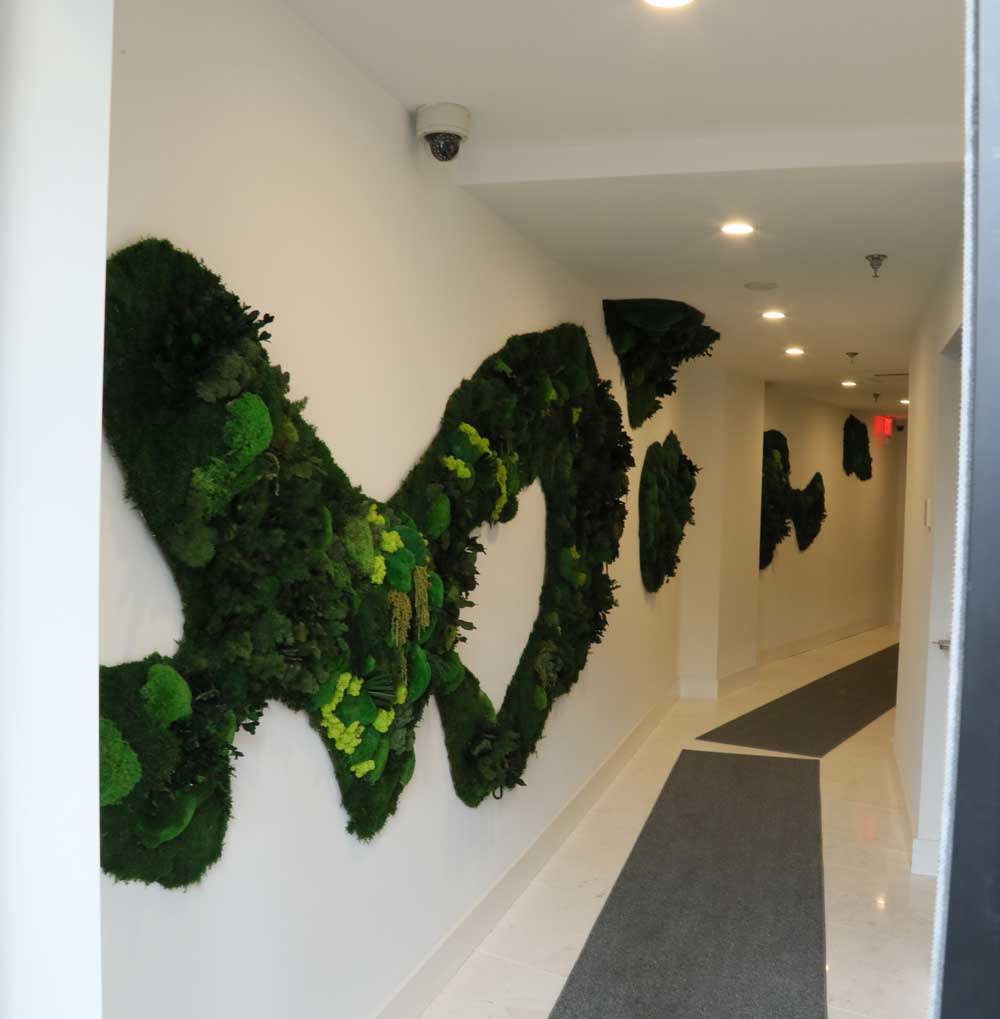 Manelli Building Wall Garden Project
Client name: Manelli Building NJ
Location: 367 3rd Street, Jersey City NJ 07302
Concept used: Wall Gardens
Project Specifics:
– Unshaped Wall Gardens for entrance
– Moss unit numbers
– Flat Moss, Bun Moss, Reindeer Moss, Hedera, Amarantus
– 5 Years Guarantee
---
Flowerbox Wall Gardens team of designers and technicians enjoys improving and refining both commercial and residential interior design projects. Implementing preserved wall garden applications easily upgrades the look and feel of any interior. Our custom creations also cultivate a sustainable and eco-friendly way of living.
It was our pure pleasure to create these 3D custom wall garden applications for a residential building in Jersey City, NJ. Manelli Building is a luxury condominium located in the heart of the Village, the historic downtown district of Jersey City. Situated less than a 10-minute walk to the Grove Street Path Train station, the building was designed by Minervini Vandermark architects and Mitchell Turnbough interiors. Manelli Building design blends comfortable and contemporary decor with such an incredible attention to detail! The perfect urban refuge, Manelli Building was designed with energy efficiency and sustainability in mind. Highly energy-efficient units have instant hot water heaters, spray foam insulation, solar farm, and the best Energy Star appliances in its class. All of these make the Manelli Building in Jersey City the perfect place to live for urban dwellers.
Committed to sustainability and eco-responsible, Manelli Building hired Flowerbox Wall Gardens to create a unique, eco-friendly, maintenance-free, and long lasting custom wall garden applications for their entrance and unit numbers.
Unshaped Preserved Wall Gardens for the Unique Look of Manelli Building Entrance
The designers and builders made the Manelli Building in Jersey City NJ an oasis, a perfect resting place from all the fuss, excitement, and commotion the modern city brings. Flowerbox Wall Gardens team of designers and technicians created an interior decor that instantaneously transports you into another world. When you set foot in the building, you instantly feel the tranquility, serenity, and peacefulness. As soon as you find yourself at the entrance of the Manelli Building, its interior momentarily grants calmness, harmony, and peace of mind.
Deep, vibrant green, velvety looking Flowerbox moss wall garden applications give this residential building entrance the modern, contemporary look. Flat Moss, Bun Moss, and Reindeer Moss, along with Hedera and Amarantus, bring a sense of composure, ease, and comfort to anyone who enters Manelli Building in Jersey City. Smooth and supple texture, warm and vibrant greens, and profound, sophisticated details have an instant relaxing and soothing effect.
Our Wall Gardens Applications also show how thorough were the designers and builders when planning this building. The dedication to the sustainable concept manifests in big and small. It goes from energy efficient units to the eco-friendly and maintenance-free interior decor. The unshaped Flowerbox Wall Garden applications in the entrance of the Manelli Building are 100% maintenance-free. That means no one will have to water or mist them. They are also independent of sunlight or soil. These unshaped wall gardens in the entrance of the Manelli Building in Jersey City present a constant visual delight for the residents and their visitors.
Distinctive Moss Unit Numbers for a 100% Original Appearance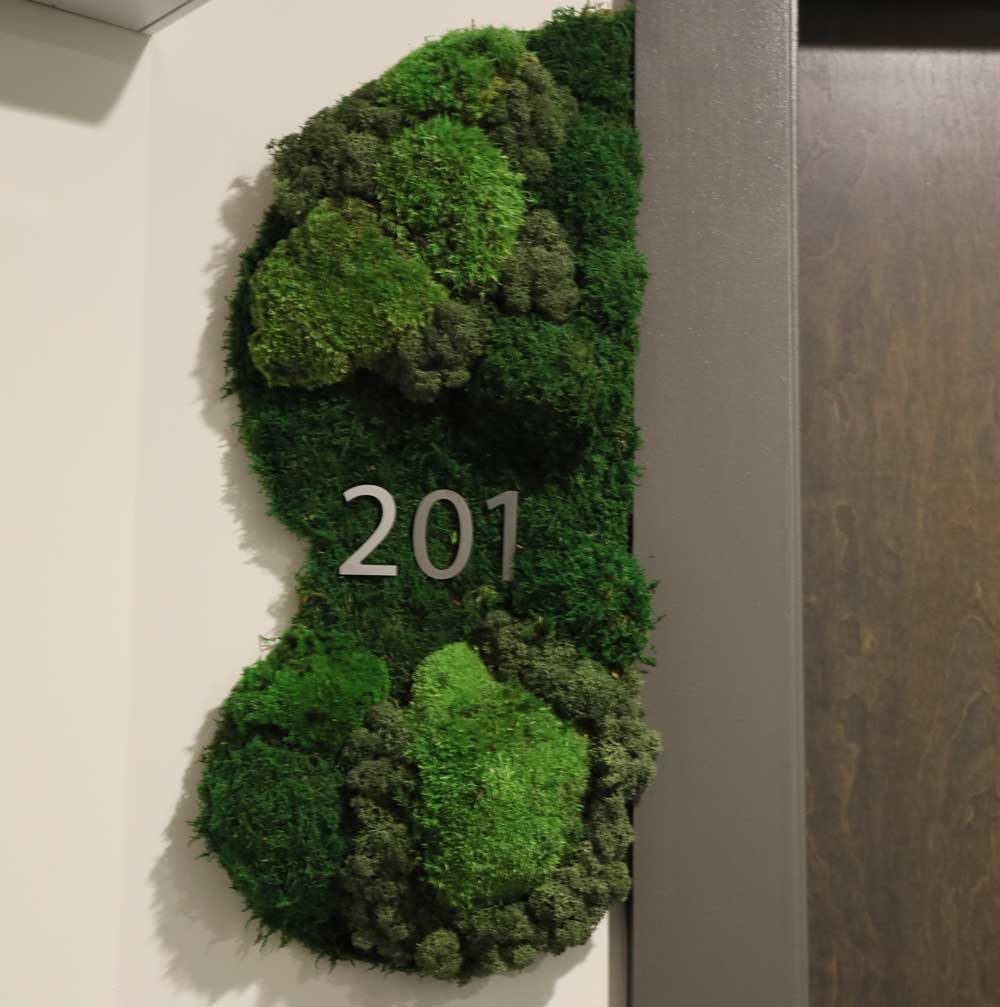 Five-story Manelli Building in Jersey City, NJ includes 12 luxury units. Each of the units interior decors features superb finishes and the highest-quality materials. Methodical and diligent attention to detail is visible everywhere you turn. The attention to detail was so consistent that it went all the way to unit numbers.
Have you ever seen such an original unit number? Flat Moss, Bun Moss, and Reindeer Moss create a perfect nest for each of the unit numbers in this luxury condominium. Now they are not only more visible but the residents' commitment to sustainable design and the eco-friendly principle is obvious.
These one-of-a-kind unit numbers settled in preserved wall gardens made of moss present a wonderful example of how everyday objects can be reinvented in a unique way. We are sure that the residents of the Manelli Building appreciate very much such an impressive attention to detail.
Contact Flowerbox Wall Gardens for Your Next Residential Interior Decor Project
Flowerbox Wall Gardens team of designers and technicians has more than 12 years of experience in creating outstanding, first-rate, one-of-a-kind vertical wall gardens. We create our vertical wall gardens using preserved, premium quality moss and other plants. This makes us the leader in preserved wall garden technique and design. Take a look at our Lush and Leafy Wall Gardens, Reindeer Moss Wall Gardens, Bun Moss Wall Gardens, and Moss Decor. Flowerbox Wall Gardens feature a unique concept patented worldwide. Our Moss Signs & Decor brings custom moss signs, custom moss walls, and other moss decor pieces.
Flowerbox vertical preserved wall gardens present an innovative and practical solution for decorating interior walls with the natural beauty of the outdoors. Hire us and get a unique, eco-friendly concept patented worldwide. Our concept was awarded a silver medal at the 34th International Exhibition of Inventions at Genova.
Whether you want to boost productivity in your corporate space, motivate or inspire your employees, our preserved wall gardens are the perfect solution. They are also great if you want to create a more private, eco-friendly, and soothing residential space. Liven up your interiors with Flowerbox Wall Gardens! Contact us today and tell us all about your idea and vision!