Moss Signs & Decor
Moss Signs & Decor from Flowerbox Wall Gardens bring outdoor natural beauty to your indoor space. Our one-of-a-kind moss wall art embodies serenity, natural appeal, and elegance. We use moss to create moss wall decor: custom moss signs, custom moss walls, and other moss decor pieces. Using naturally preserved Reindeer Moss, Flat Moss, and Bun Moss, we create sustainable, maintenance-free, long-lasting moss signs and moss walls. Each piece we create is perfectly unique and custom designed to your specifications to fulfill your needs for tranquility, serenity, and exclusively original design.
Flowerbox Wall Gardens creates Moss Signs & Decor that don't require any watering, misting, irrigation, soil, or sunlight. When you bring nature into your place of work or your home with our moss wall art, forget all that you know about growing and maintaining plants. Our Moss Signs, Moss Walls, and other Moss Decor will keep their soft texture, vibrant colors, and intricate, sophisticated details without your care. They are 100% worry-free! Sustainably sourced and naturally preserved moss signs, moss walls, and other moss decor pieces will add organic beauty, genuine comfort, and intriguing delight to your indoor space.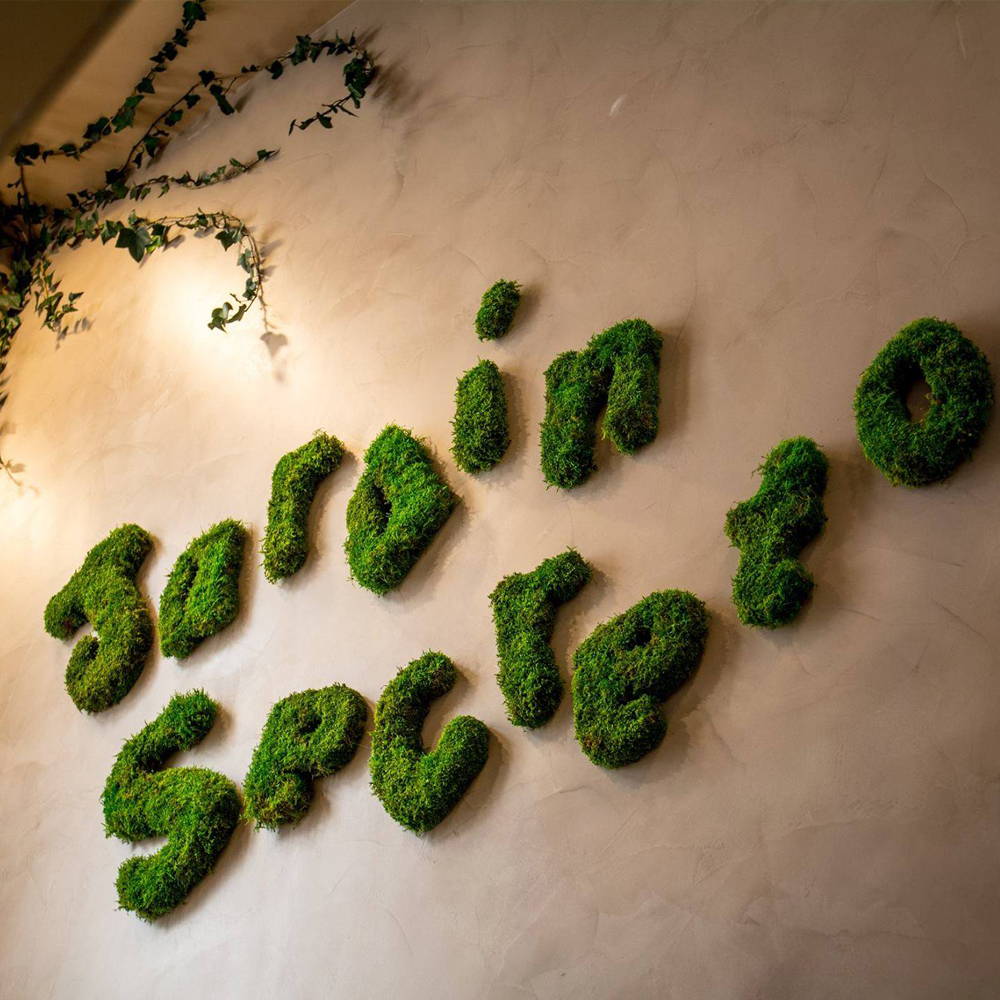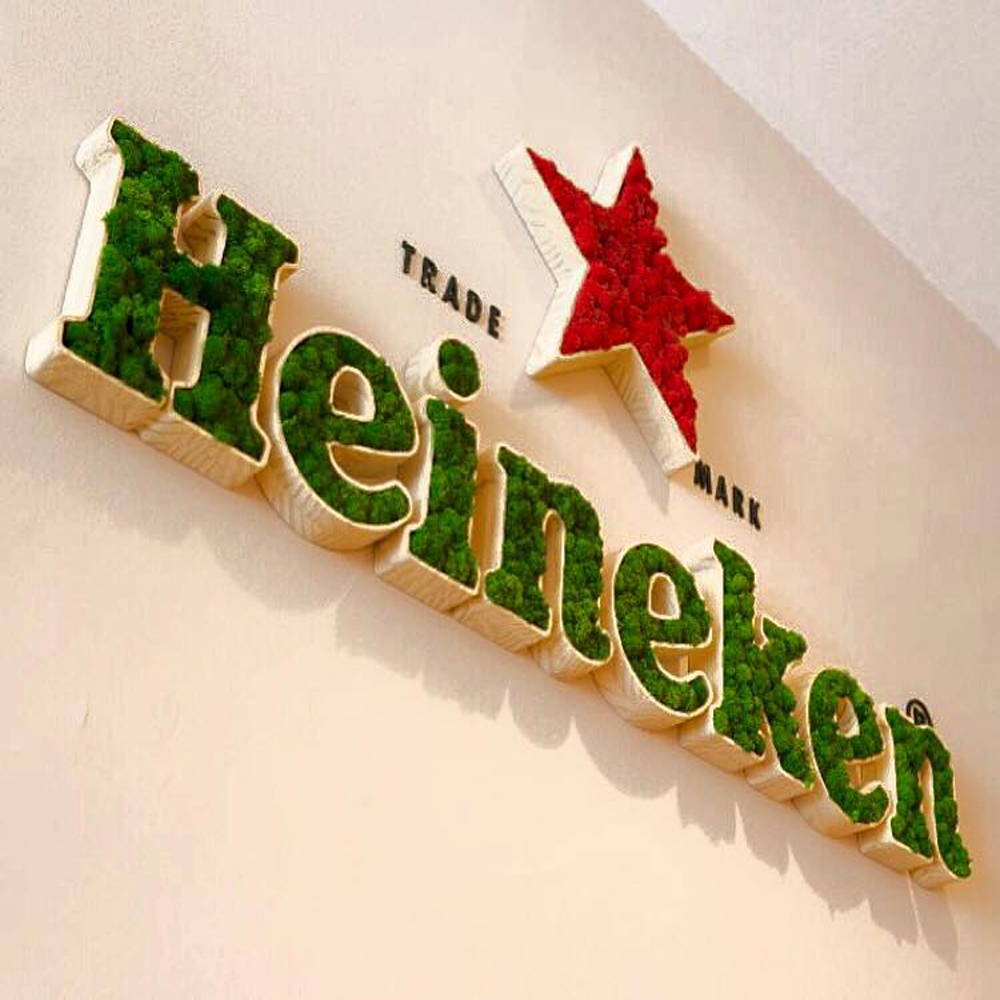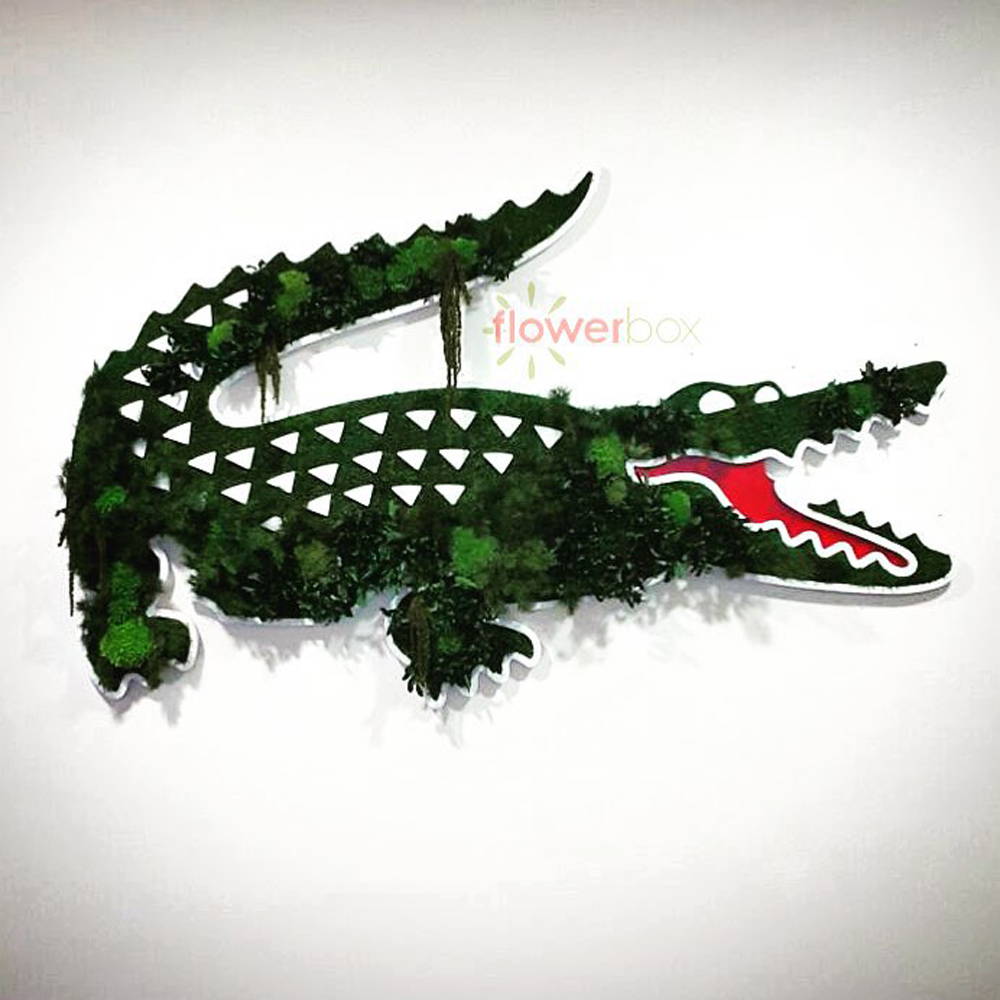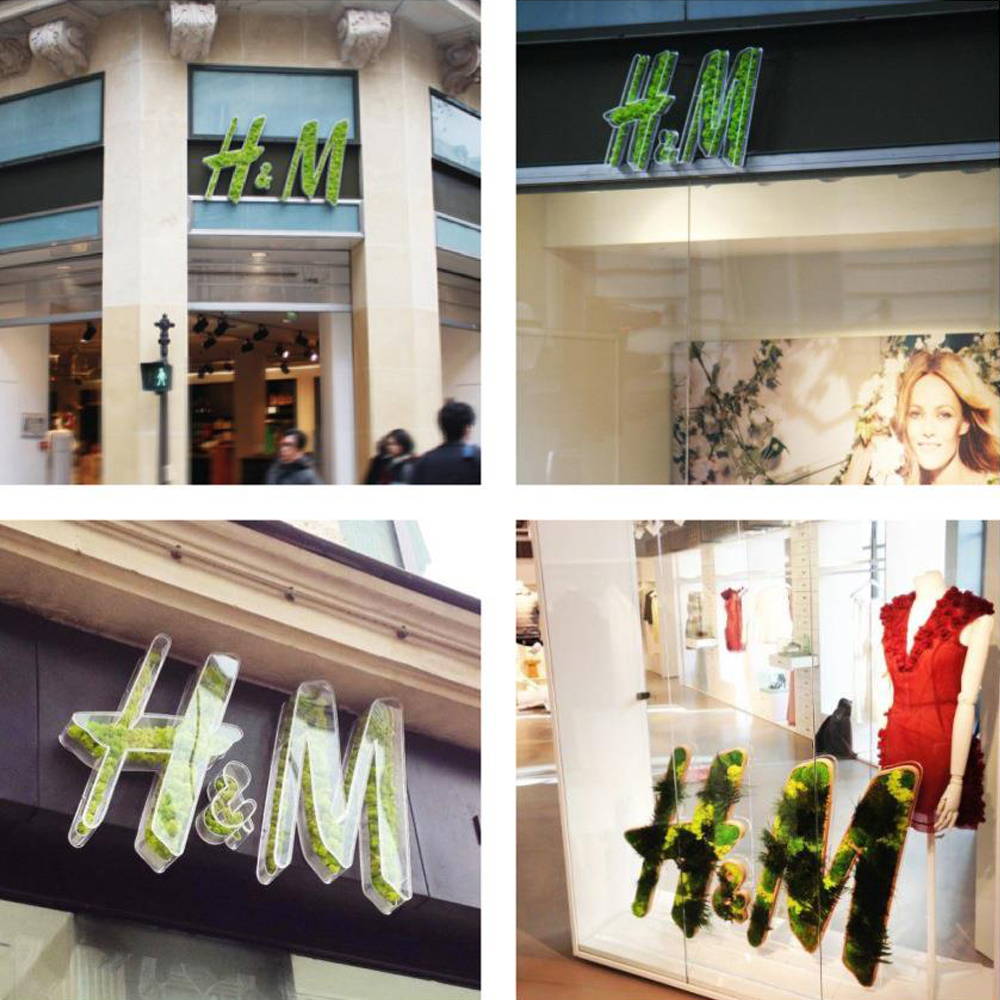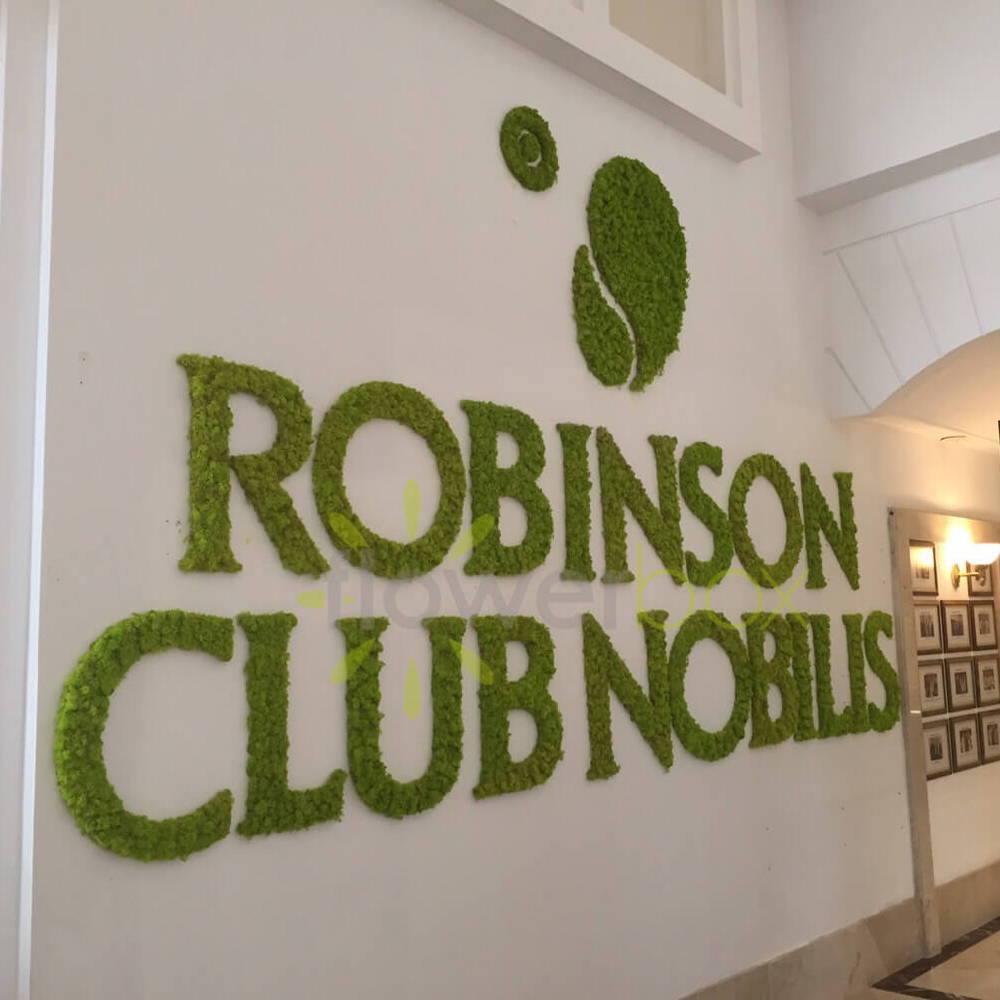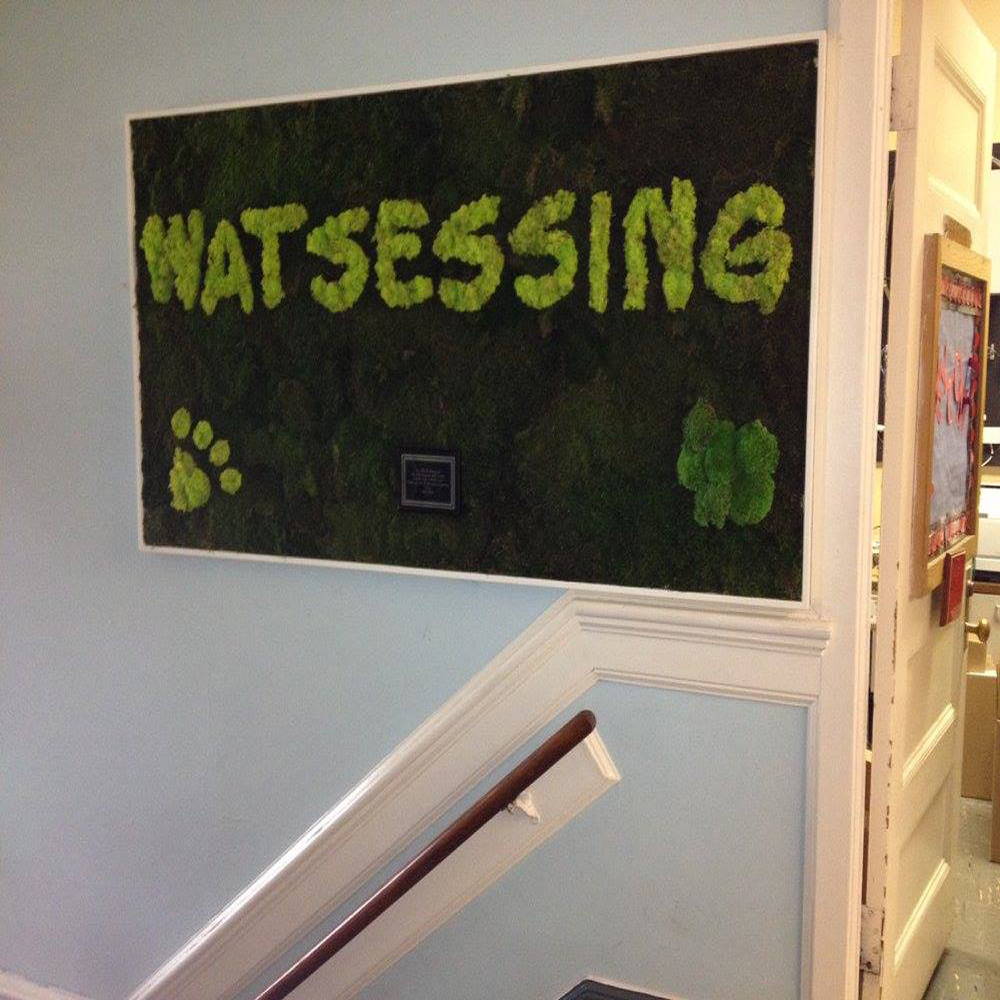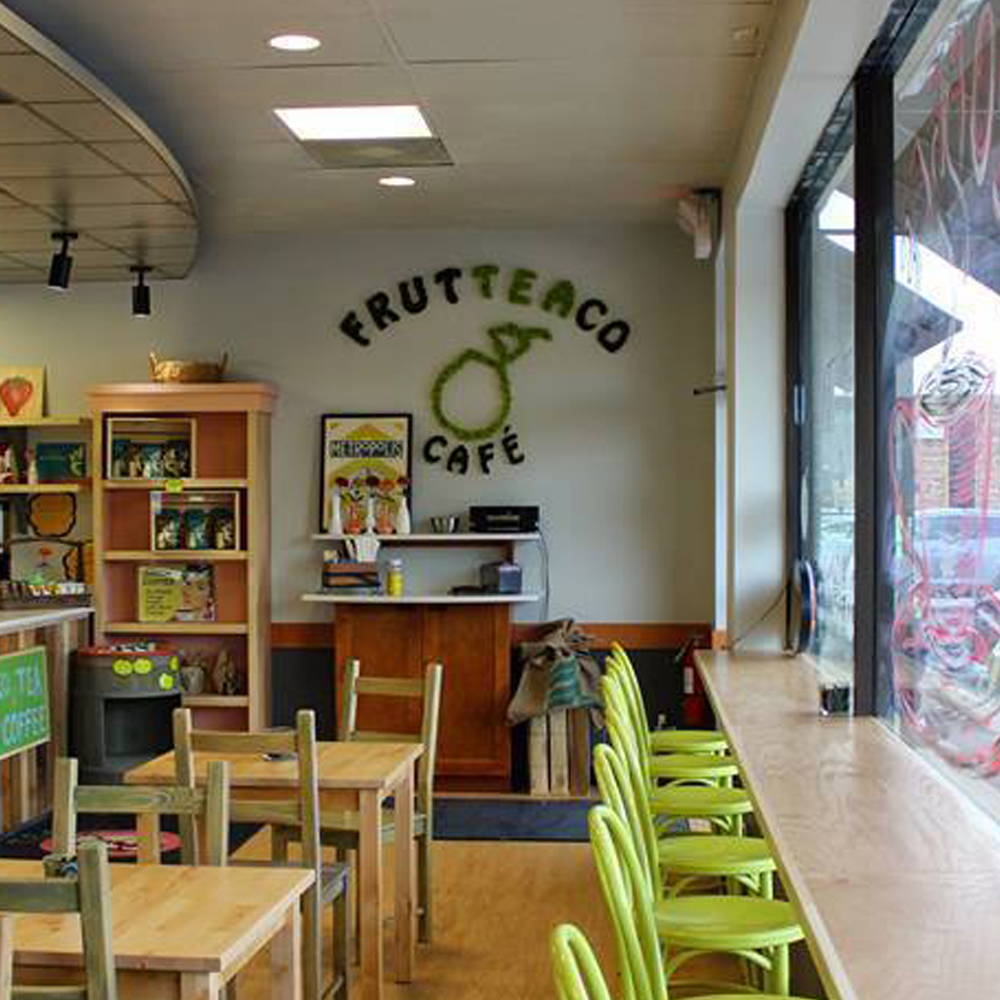 Refine and Uplift Your Indoors with Moss Signs & Decor
Flowerbox Wall Gardens elevates your spirit by bringing maintenance-free, sustainable moss signs, moss walls, and other moss decor pieces into your interiors. Lift the spirits of your employees, your guests, family members and friends with our unique moss pieces. They can be custom-made to your specifications and desires.
Living, working, always being in a hurry and busy, we forget about the core need of any human being – a precious connection to nature. Not thinking about it, we underestimate it, but we cannot renounce it. Maintaining a connection with nature is an essential need of any human being. Nature inspires us, fuels our creativity and productivity, and brings us back to ourselves – reminds us who we are, what we are made of, and what do we need.
We love bringing the outdoors into the heart of an indoor space and creating art drawing inspiration from the works of the ultimate artist – nature. Bringing in the lush beauty of the outdoors and restoring the connection between people and nature in unexpected, unique ways is our passion.
Who wouldn't like to work or live in an interior like this?
Whether you are a designer, a business owner, an event planner, or you simply want to make your home a true oasis, we can make your plan and project come into an existence. We made it our passion and our mission. Contact us today to bring in the unique beauty of Moss Signs & Decor and enjoy it, worry-free, for a long time!
Make Your Brand Unique with Our Customizable Moss Signs & Decor
Flowerbox Wall Gardens creates moss signs, moss walls and other moss decor pieces by adding and combining vibrant, quality moss to reflect your company's style, mission, and brand. It is so easy to invigorate and vitalize conference rooms, offices, and co-working spaces, to brighten up restaurants, and make reception areas more welcoming with our Moss Signs. Studies show that, when surrounded by plants, employees feel better, more motivated, less stressed, and take fewer sick days. Motivate your employees and replenish their energy easily with our handcrafted, one-of-a-kind moss wall art.
Our Moss Signs present a great solution for offices, corporate environments, various events, exhibits, restaurants, hotels, libraries, and other industries. We can't wait to hear your ideas, to understand your vision and give it an original look with our Moss Signs & Decor. Would you like to see your logo design in moss? Contact us to see what we can offer you and prepare to be amazed. Ideal for commercial spaces, our Moss Signs & Decor beautifully complement both contemporary, urban interiors and rustic, natural decor.
All you need to do is to tell us your story and all about your vision. We will help you to pass it in a unique way. Making it easy for everyone to understand it and fall in love with it is our specialty. Contact us today for your next indoor moss project.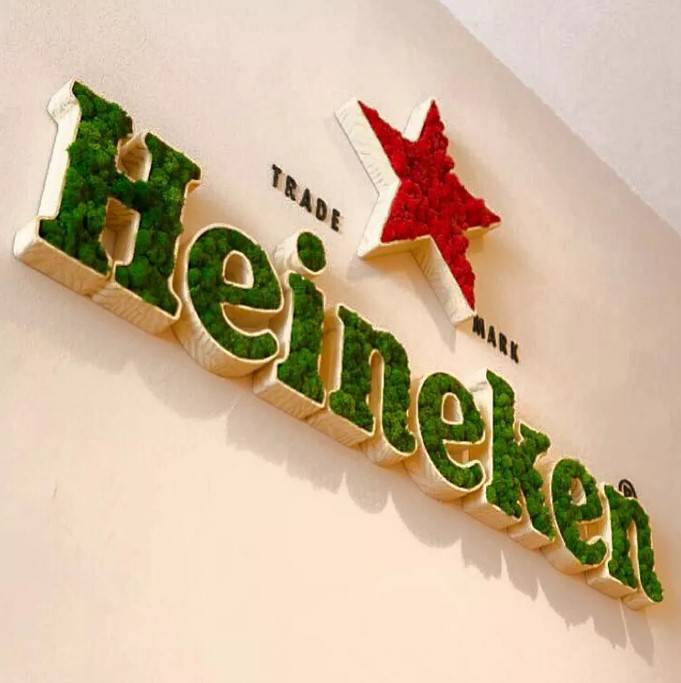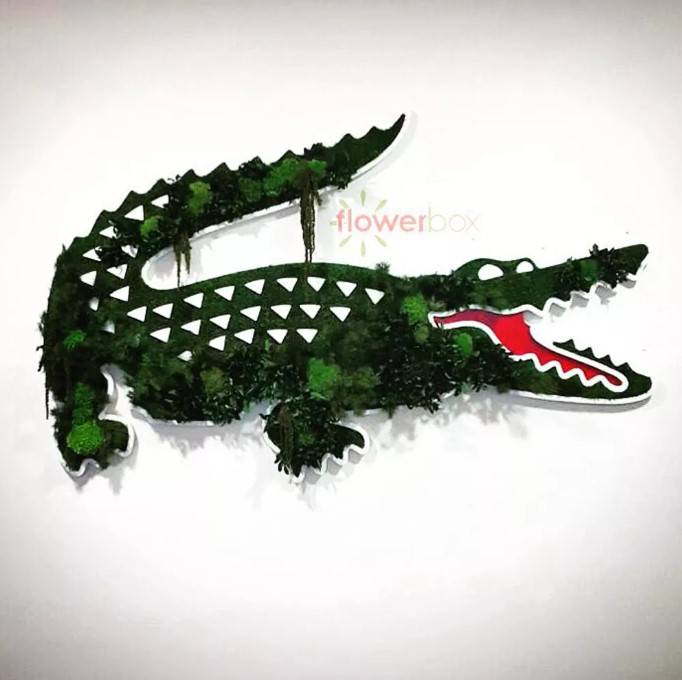 100% Maintenance-Free, Worry-Free, Sustainable Moss Signs & Decor
Flowerbox Wall Garden creates sustainable, award-winning, completely maintenance-free Moss Signs & Decor. We listen to your wishes and needs, and create a custom piece just for you, perfectly unique!
Our philosophy includes using sustainably harvested mosses and leaving as small as possible carbon footprint. For Moss Signs & Decor creation, we use preserved moss imported from Europe with a Flowerbox quality guarantee. Each step in the creation of any piece we produce is carried out here, in our New York and New Jersey headquarters, by our talented and dedicated designers and technicians. However, we ship our Moss Signs & Decor all across the country.
Flowerbox Wall Gardens Moss Signs & Decor are:
100% Maintenance-Free
We use a proprietary technique to replace sap with natural, non-toxic preservatives that maintain plants' flexibility and natural color for many years. The preserving technique we use protects preserved Moss Signs & Decor as long as they are kept away from direct sunlight and humidity above 80%.
Water-Free
Our Moss Signs, Moss Walls, and other Moss Decor pieces are preserved. This means that they do not require any watering or misting to stay vibrant, lush, and soft. They are water efficient when compared to the irrigation system that is required for live wall gardens.
Light-Free
Flowerbox Wall Gardens Moss Signs, Moss Walls, and other Moss Decor pieces do not need sunlight. Avoid exposing your Moss Decor to direct sunlight to retain its vibrant, fresh-cut look and feel for 5 years.
Soil-Free
Our preserved Moss Signs & Decor don't have any roots. That is why they don't need any soil in order to stay remarkably fresh, lush, and vibrant.
Recommendations
Occasionally, you can remove dust using a soft cloth. You can also use a can of compressed air to blow the dust off once a year. Don't forget to avoid pressing, folding, or crushing moss. Use it only indoors. Don't water it and don't expose it to humidity above 80%. Keep it from the direct sunlight.
Contact Us Today to Bring Your Moss Sign to Life
Moss Signs & Decor by Flowerbox Wall Gardens can take the form of logos, brand symbols, and other custom shapes. Long-lasting, 100% maintenance-free, our Moss Signs keep their freshness, vitality, and vibrant color for a long time and present an economical option for your branding. Your Moss Sign will look amazing in your office, conference room, hotel, restaurant, home, or any other type of indoor space.
There are no special requirements. You don't need any special lighting, reinforced walls, onsite plumbing, or fertilizers. We make sure everything goes as planned and agreed with you. Everything is covered, from the initial conception to the final Moss Sign installation.
Flowerbox Wall Garden team works with teams, architects, designers, and with individual clients. We work within various settings, including corporate, public, and private.
All Moss Signs & Decor made by Flowerbox Wall Gardens bring superior quality and unique concepts. They are eco-friendly, biodegradable, non-toxic, and pet-friendly. We stand out with our exceptional craftsmanship, care, and service. Being a leader in preserved Moss wall garden technique and design with over 12 years of experience, makes us the best choice to make your idea come true.
Bring naturally stunning, effective, and inspiring decor to your indoors with unique Moss Signs & Decor solutions by Flowerbox Wall Gardens. We can't wait to hear your story and make your vision come to life. Contact us today!