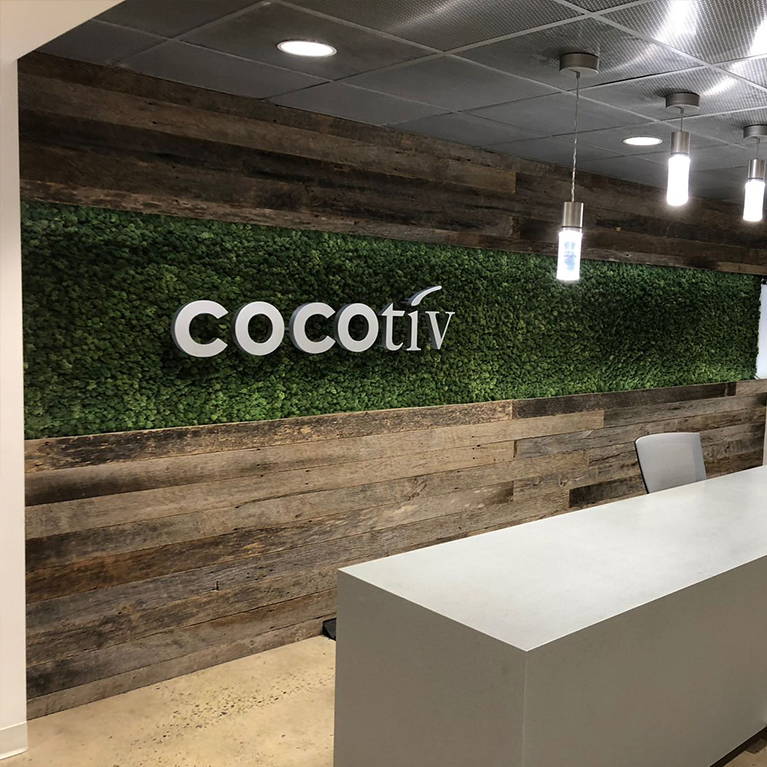 Natural Reindeer Moss Green Sign Application
Client name: CoCoTiv Coworking Office Space
Location: 1515 Mockingbird Ln #400, Charlotte, NC 28209
Concept used: Green Signs
Project Specifics:
– Green Sign application for the Lobby Area
Material Used:
– Reindeer Moss
– 5 Years Guarantee
---
There is a new coworking space in Charlotte, North Carolina, called CoCoTiv! This hip coworking office space now has a vibrant green welcome for all of their members! Flowerbox partnered with a local sign company to make this beautiful Natural Reindeer Moss Green Sign Installation Project happen.
CoCoTiv is a cool coworking office space located in Charlotte's hippest neighborhood – Montford Park. Their unique, memorable name intrigues; it is very interesting and ingeniously put together. The name CoCoTiv combines and aligns three key ideals – COwork, COllaborate, and coTIVate. It reflects a goal to create an authentic, genuine, productive, and successful shared working environment.
CoCoTiv Coworking office space provides coworking space, brand new private offices, and dedicated workstations for entrepreneurs, freelancers and everyone who want to work in a highly motivational and compelling office space.
This hip coworking space in Charlotte NC provides not only offices but absolutely everything you may need to do your work and grow your business from day one. Ergonomic furniture, 300 Mbps wireless and fiber internet, 24/7 access, professional business address, phone booths, conference and meeting rooms, fitness center, free parking, and much more.
CoCoTiv presents a vibrant, inspiring ecosystem of entrepreneurs, influencers, and energizers. We are happy to refine it with Flowerbox Green Sign Wall Application.
Natural Reindeer Moss Green Sign by Flowerbox Inspires Success at CoCoTiv Coworking
Flowerbox team of designers and technicians custom made this Natural Reindeer Moss Green Sign for CoCoTiv Coworking. We partnered with a local sign company to make their idea come to life. The green wall is made in dimensions 18'x3'. It is recessed in a rustic reclaimed wood wall. These stunning wood pieces were harvested from old barns throughout the Carolinas.
Green Sign application for the CoCoTiv lobby area contains only natural reindeer moss. This kind of moss is great for covering the foundation of different kinds of arrangements, as well as an addition to them. Natural reindeer moss adaptations also look great when combined with other kinds of mosses, leafy plants, or in floral arrangements with fresh or artificial flowers.
Reindeer Moss possesses a lush, deep, fresh grayish-green lichen look. Flowerbox takes only the best pieces and preserves them using a non-toxic glycerin-based stabilizing solution. When preserved like this, Flowerbox reindeer mosses keep their perfect look for at least 5 years, guaranteed. They will have the same look as the first time you saw them. In addition, there is no whatsoever maintenance required. Our clients love when they hear that our natural reindeer moss doesn't include any reindeer moss care. The best way to take care of your reindeer moss wall garden applications is to simply enjoy them.,
CoCoTiv team and everyone working there know that inspiration and motivation are crucial for achieving great results. Flowerbox Natural Reindeer Moss Green Sign Application installed in the CoCoTiv lobby area warmly welcomes everyone and reveals some of the most important values for any aspiring individual – staying current, fresh, new, creative, and imaginative.
Natural Reindeer Moss Green Sign Application
Natural Reindeer Moss Flowerbox Wall Garden Applications for Tranquil, Serene, Rejuvenating Spaces
Flowerbox creates unique reindeer moss wall gardens of superb quality. Natural reindeer moss is an authentic natural material and we use it to give a natural, lush look to our custom made applications.
Reindeer moss adaptations can be used for any type of interior surfaces. Interior walls, tables, and ceilings all look very different when decorated with natural reindeer moss details. The unique surface texture of reindeer moss, as well as its various shapes, add a lively, vivacious, and high-spirited look to any interior. Natural reindeer moss is the kind of natural decorating material that adds a whole another dimension to any interior space – more energizing, invigorating, and fresh. The profound beauty and modern aesthetic of reindeer moss green signs invite touching and bring true enjoyment to anyone near it. Flowerbox natural reindeer moss green signs and other reindeer moss adaptations provide a genuine experience. Through our reindeer moss green sign pieces, we provide an authentic, soft connection with the natural surroundings in the interior spaces of both residential and commercial clients.
Natural reindeer moss that we use comes from the forest. Carefully selected and hand-picked, reindeer moss in our wall gardens and green signs is of the highest grade. Preserved with a non-toxic, glycerin-based stabilizing solution, it provides only high-quality wall gardens and green sign applications.
Innovate Your Coworking Office Space with Flowerbox Natural Reindeer Moss Green Signs
Do you like the look of CoCoTiv lobby area? Their name and their brand look amazing snuggled in a wealth of natural reindeer moss plants. Our technicians and designers attached each reindeer moss plant by hand to ensure maximum performance and the best possible look.
Flowerbox understands that contemporary coworking spaces require truly innovative interior decor. Places where people meet to work, meet deadlines, thrive, and achieve, should appeal to all. Coworking space should inspire collaboration, productivity, and creativity. Unlike classic, traditional offices from the past, coworking spaces put people in the first place and give their ideas space to come true. More and more, coworking spaces become cheerful, fun, and playful interiors where creative thinking thrives.
With Green Sign application for the lobby area, CoCoTiv is one of the most inspiring coworking spaces in the U.S. The combination of rustic reclaimed wood wall and lush, soft, supple natural reindeer moss gives a profound, contemporary look to this unique space.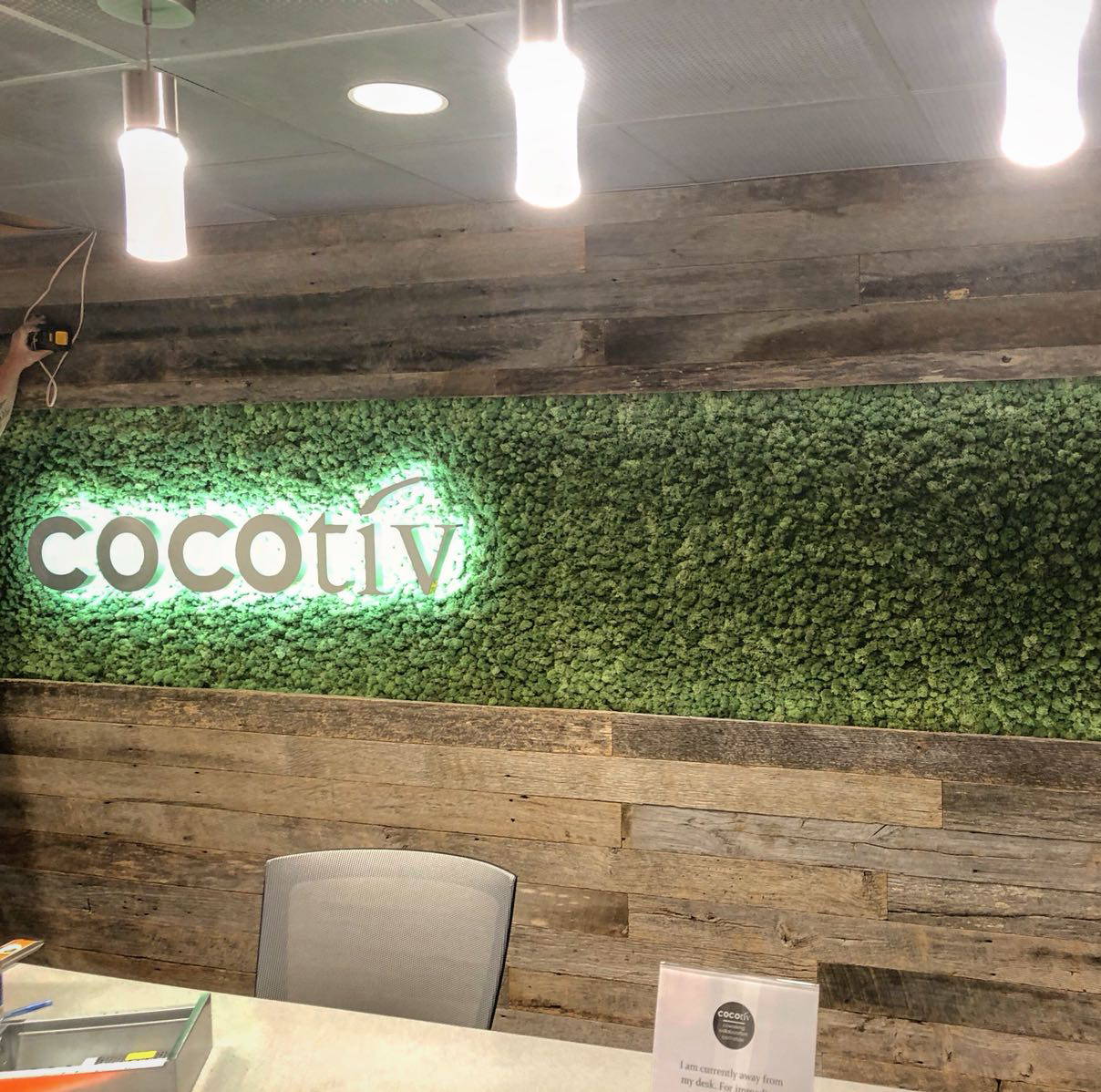 Contact Flowerbox Today to Refresh Your Coworking Space
With over 12 years of experience in preserved green sign and wall garden technique, Flowerbox is a leader in the Wall Garden concept in the U.S. Our award-winning work on green signs applications make us the first choice for innovating interior spaces and bringing the beauty of outdoor nature into your interiors. Your brand and your name become recognizable and memorable with our green signs. Your dedication to sustainability and your eco-friendly orientation in business and life is obvious with our natural reindeer moss green sign and vertical wall gardens.
Take a look at our Moss Signs and Decor, see our Wall Gardens, and reinvent your interiors with Flowerbox. Contact ustoday!