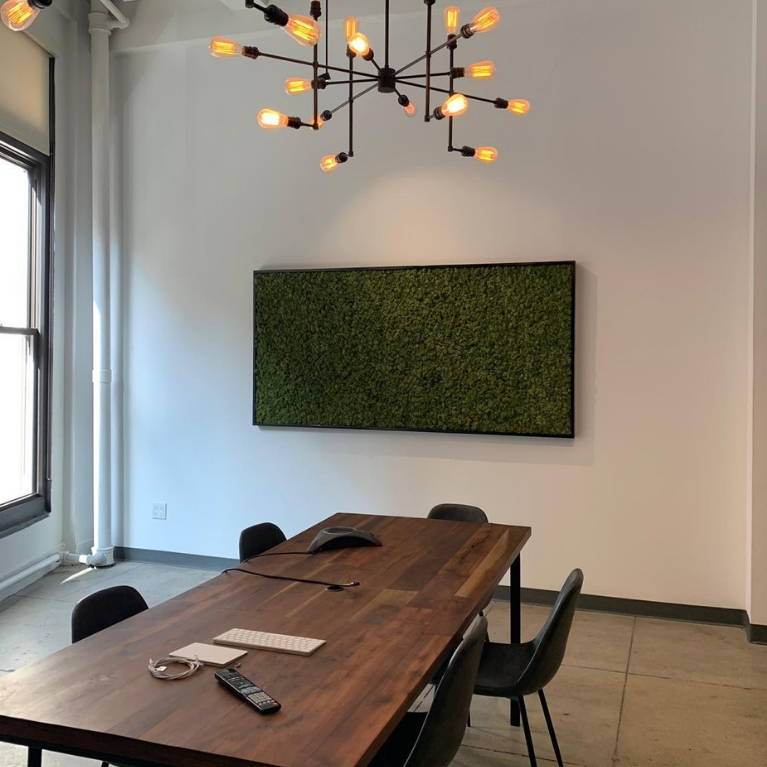 Reindeer Moss Wall Garden at Stella Rising Marketing Agency
Client name: Stella Rising Marketing Agency
Location: 920 Broadway, Floor 2 Manhattan, New York, New York
Concept used: Wall Gardens
Project Specifics:
– Wall Garden Application 4' x 8'
Materials Used:
– Reindeer moss
– 5 Years Guarantee
---
On November 20, 2018, Flowerbox Wall Gardens installed a stunning wall garden application display for Stella Rising Marketing Agency, located in Manhattan, New York. We loved making this space unique. Simple, natural, glossy black reindeer moss frame makes a dramatic decor statement in Stella Rising Marketing Agency minimalist interior decor. Currently drawing delighted oohs and aahs from interior designers across the US, lush reindeer moss is not only an alternative live indoor plant but a staple in the world of natural décor. Flowerbox Wall Gardens used it to create a wall garden that is powerful in its simplicity, smoothness, and brilliance.
The Magnificent Power of Preserved Velvety Reindeer Moss
The appearance, feel, and character of Flowerbox Reindeer Moss is something magical. When you see it, you simply want to touch it, feel it, and capture its essence. Soft and smooth, velvety branches and tentacles create a fascinating maze that is all you would love to look at every day. Densely, compactly, and firmly grown, Reindeer Moss little, supple, balmy branches create a calming effect and sophisticated ambiance.
The influence nature has on our psyche is amazing while the power Reinder Moss has on our minds and souls is simply relaxing, soothing, and quieting. Sometimes, this is all we need to be able to gather our thoughts, create plans, and convey ideas. Quieting your mind can make your soul speak. And the best ideas speak loud when a cacophony is muted. Flowerbox Reindeer Moss does that. It will quiet everything around you so that your soul can sing and your creativity can bloom.
Reindeer Moss does wonders for interiors. It has an incredible power to soften the harsh tones, soothe bare contours, and embellish minimalist lines. Whether used as a block pattern, placed in a frame, as a full wall mural or scattered within a unique wall garden design, preserved Reindeer Moss will adorn your interior. You can use it at home or in an office, anywhere where beautiful but sustainable greenery is required.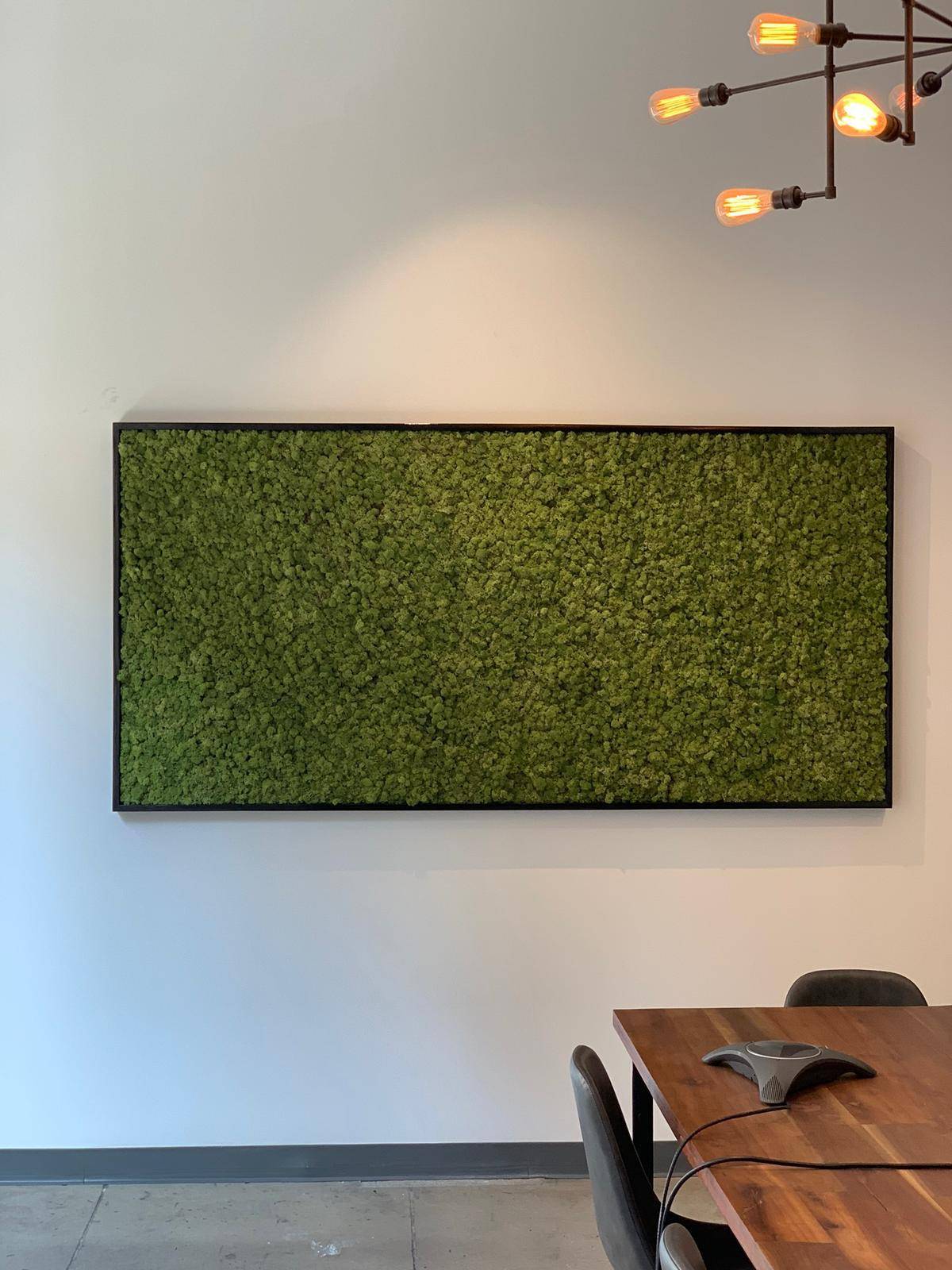 Stella Rising Marketing Agency -- the Agency for Rising Stars
Stella Rising Marketing Agency in Manhattan New York is one of the leading media and marketing agencies and business consulting firms for energetic, high-growth consumer brands and companies. The agency uses media, creative communication, technology, and human engagement to connect brands with people who will love those brands. Helping forward-thinking and dynamic brands to develop and thrive, the employees at Stella Rising Marketing Agency are stars themselves. Their accomplishments shine in a minimalist, highly tasteful interior.
Flowerbox Wall Gardens added sustainable quality, longevity, and a touch of exceptional appearance by creating and installing a one-of-a-kind Reindeer Moss Wall Garden made especially for Stella Rising Marketing Agency.
Reindeer Moss Wall Garden Project in Manhattan, NY
How We Adorned Stella Rising Marketing Agency Interior with Glossy Reindeer Moss Wall Garden
Reindeer Moss can easily create a timeless interior design. We love how we used this simple glossy black reindeer moss frame to adorn the Stella Rising Marketing agency conference space. The office simply came alive with these textured preserved plants. Reindeer Moss added an extra edge in toning this interior decor via its composition of color, texture, and shape.
The Wall Garden Application Reindeer Moss we installed in Stella Rising Marketing Agency is size 4' x 8'. A simple white office space with statement decor pieces and natural decor elements welcomed Flowerbox Reindeer Moss application. Placed on a plain white wall, Reindeer Moss shines and invites you to explore its intricate details. Effective like no other decor piece, Flowerbox Reindeer Moss Wall Garden application in the Stella Rising Marketing Agency conference room is the first thing you will notice when you set foot there.
Besides its glorious appearance, Reindeer Moss is also an especially convenient decor element. It is highly acoustic dampening. Aware of this trait, Stella Rising Marketing Agency decided to use Reindeer Moss intelligently. This unique plant will muffle the sounds and echoes and help employees focus on the tasks at hand.
Sustainable & Eco-Friendly Reindeer Moss Wall Garden Application with Zero Maintenance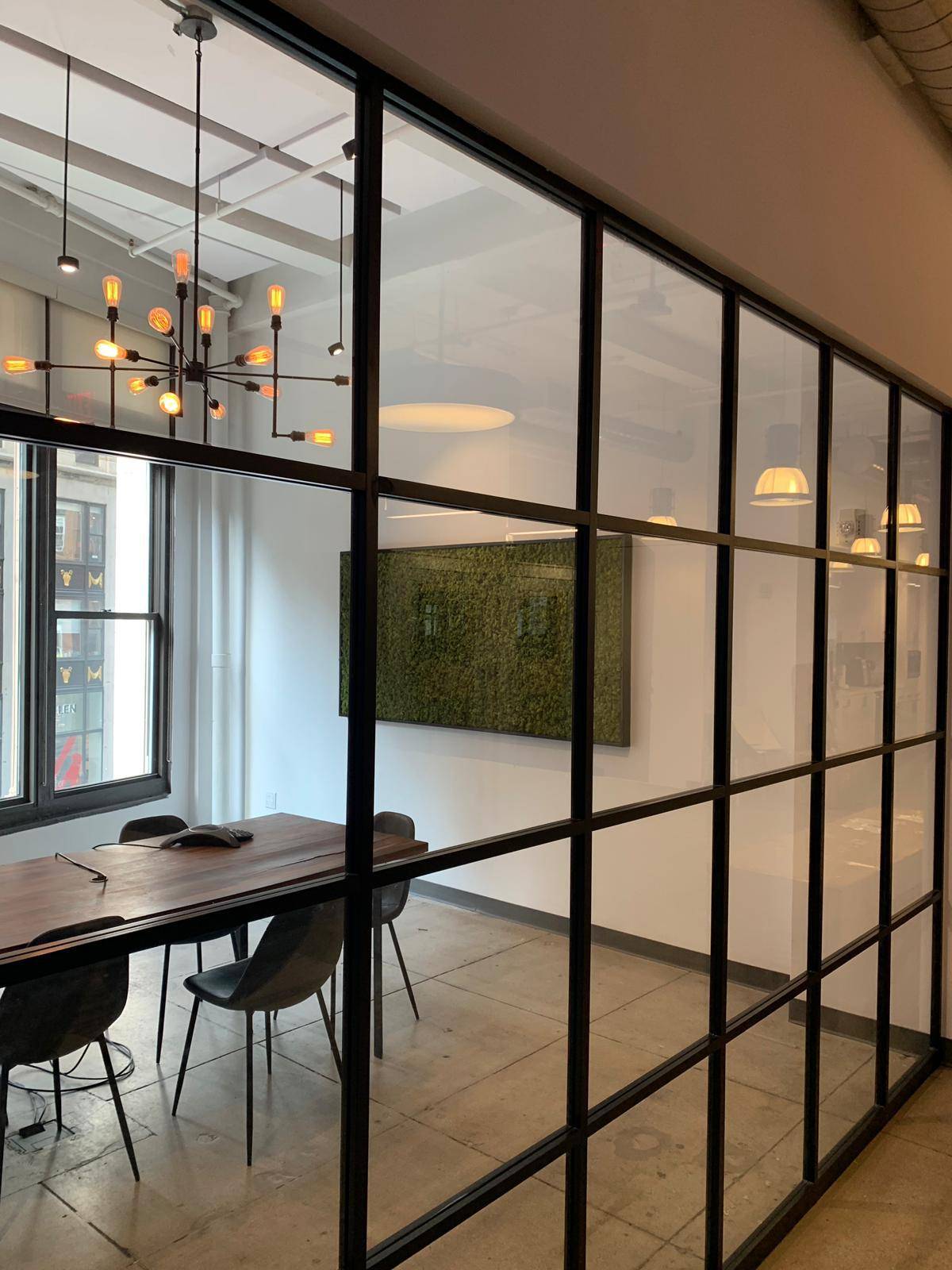 The people working at Stella Rising Marketing Agency love that they now have a natural decor piece 100 percent free of maintenance.
To ensure the longevity of Flowerbox Reindeer Moss Wall Garden Application, they don't have to do absolutely anything.
All mosses that we use in creating our Wall Gardens and Moss Signs Decor pieces go through a patented preservation process.
They are preserved so they keep their color, texture, and vitality bright. This way, we ensure their long-lasting impact.
Flowerbox wall gardens do not require any natural lighting, watering, misting or any kind of maintenance.
Looking the same as the first time you saw your one-of-a-kind custom made Flowerbox Wal Garden, you will enjoy it for the next 7 to 10 years.
The natural color, texture, suppleness, and depth will always look striking.
Contact Flowerbox to Let Nature into Your Home or Office
Flowerbox Wall Gardens are unique decorative pieces you should definitely have in your home or office space. Any interior will easily come alive with it while reflecting your style, taste, and dedication to sustainable materials and nature. Beautiful, organic colors, soft texture, and innovative combinations of reindeer moss, flat moss, bun moss, and various ferns and leaves will always be a great conversation starter. Everyone will want to look at it and feel it.
If you always wanted a garden in your house or office, you can have it with our Wall Gardens. You just won't have to care for it as you would have to care for live plants. Green fingers are not necessary as no maintenance is needed for these garden wall art pieces to make them look great.
Our eco-friendly preserved plants create a relaxed, magical ambiance in any space and relieve stress, helping you focus on the things that matter.
Contact us today and let us know how does your dream wall garden look like. We will use all our expertise, knowledge, and creativity to make your home or office come to life with a one-of-a-kind wall garden.