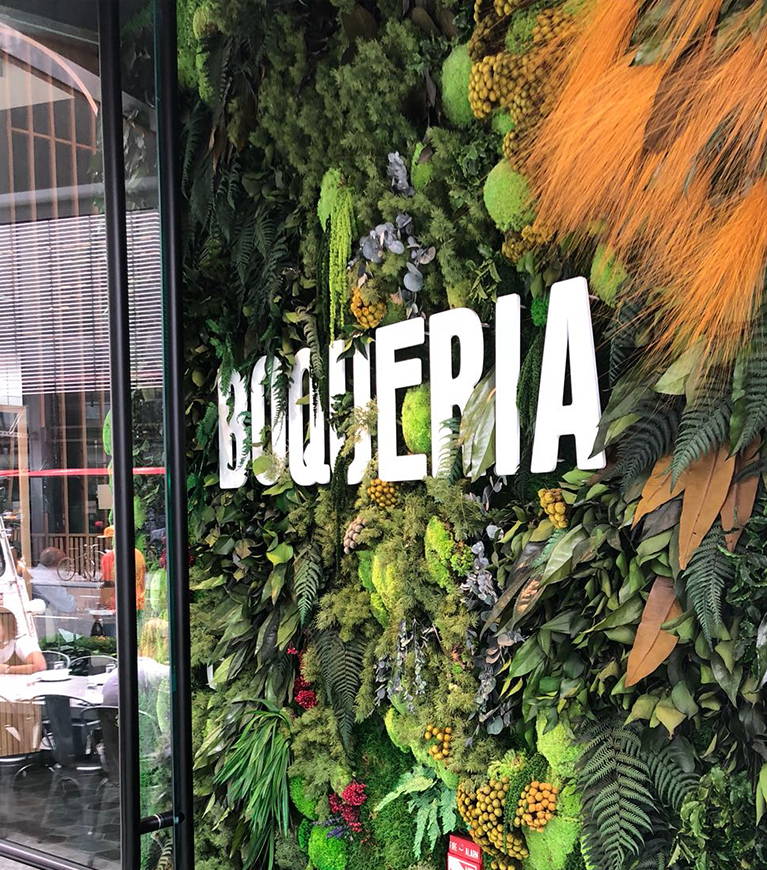 Stunning Wall Garden Project at Boqueria Restaurant, NYC
Client name: Boqueria Restaurant
Location: 260 West 40th Street, NYC 10018
Concept used: Wall Gardens
Project Specifics:
– 100% density lush wall garden application for the entrance of the restaurant
Materials Used:
– Flat Moss, Bunn Moss, Reindeer Moss
– Fearns and Leaves
– 5 Years Guarantee
---
Boqueria Restaurant & Tapas Bar at 260 West 40th Street, NYC 10018 is the newest location for Boqueria in NYC. On June 15 2018, they got his lushleafyand tropicalwall garden. Flowerbox Wall Gardens installed this long-lasting and no upkeep preserved wall garden at this Barcelona style tapas bar, bringing natural, wild beauty indoors. At the same, we eliminated the hassles of maintaining a living wall or plants.
If you love lively, buzzy atmosphere and great Mediterranean food, and live in NY, you probably already know about Boqueria Spanish Tapas Bar & Restaurant. This Barcelona market inspired place offers amazing food. Inspired by the busy atmosphere and excellent food of the "Kioskos" around the famous food market "El Mercado de la Boqueria", Boqueria Restaurant provides a unique experience.
The Art of Barcelona Inspired Food at Boqueria Restaurant, NYC
Newly opened Boqueria Restaurant at 260 West 40th Street, NYC 10018 offers enticing versions of classic Spanish tapas and small plates that include seasonal best fresh products. Located between Seventh and Eighth Avenue, Boqueria Restaurant and Tapas Bar is a super convenient breakfast place for anyone who needs to get to work or anywhere else extra early. Every day, at 6:30 a.m. daily, you can enjoy their delicious pastry and cafe con leche at the bar. You can try their full service by tasting their exquisite dishes like chorizo, tortilla, pan con tomate, or seafood paella.
Boqueria Restaurant at 260 West 40th Street, NYC is a large location. You will enjoy its spaciousness with the 85-seat dining room and the 20-seat bar. The sense of grandeur is enhanced with 20-seat outdoor patio and 27-foot windows. If you like to enjoy an unobstructed view at the kitchen, choose one of the 24 seats along their open kitchen.
Perfect spot for casual Spanish food and drinks, Boqueria Restaurant calls to spontaneity. Drop by any time, for an early breakfast or coffee, a late night snack, or an unconventional meal. Here, it is easy to reject the conventional, ceremonial way of dining, and truly enjoy your food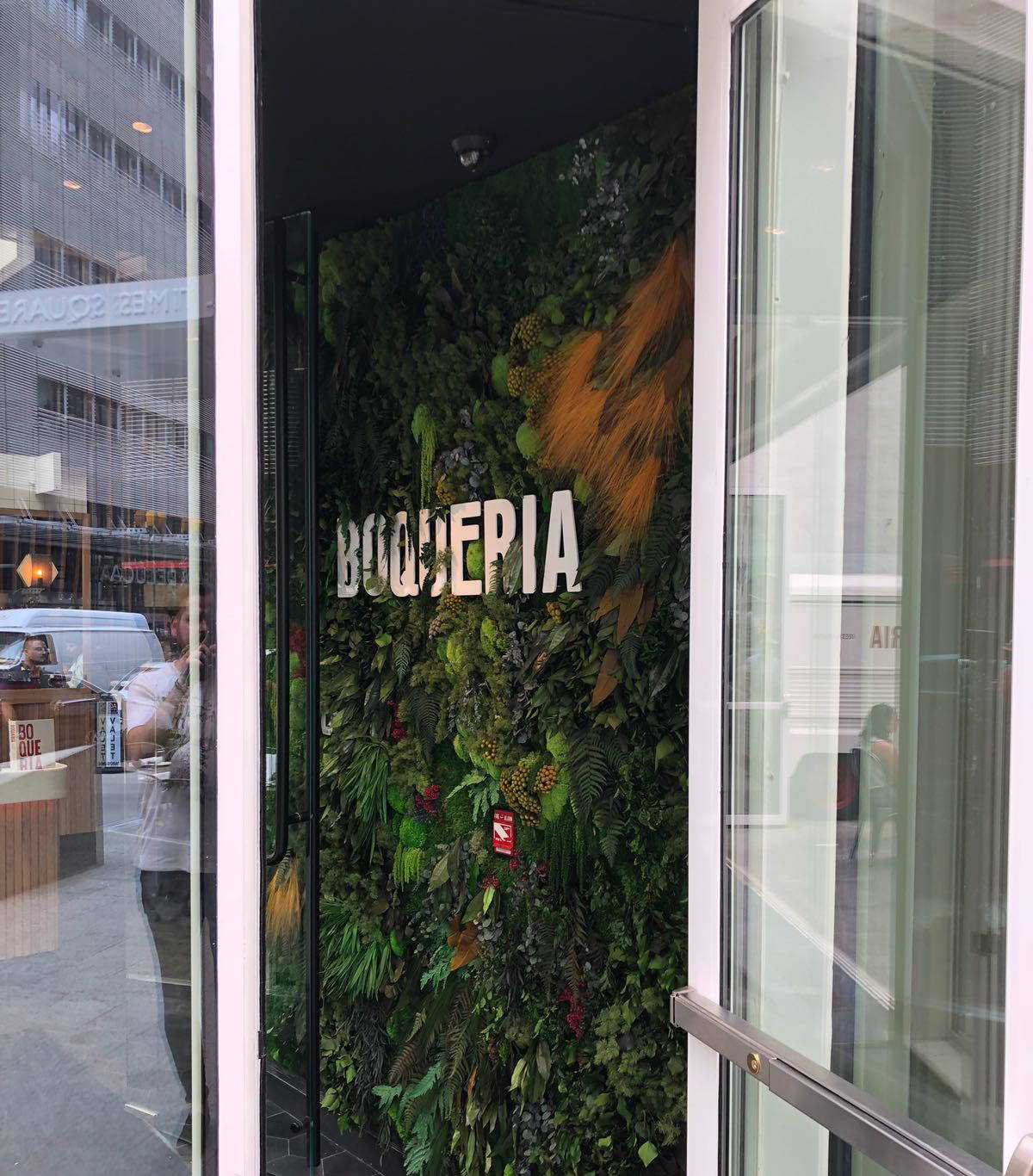 The Art of Nature Inspired Wall Garden at Boqueria Restaurant, NYC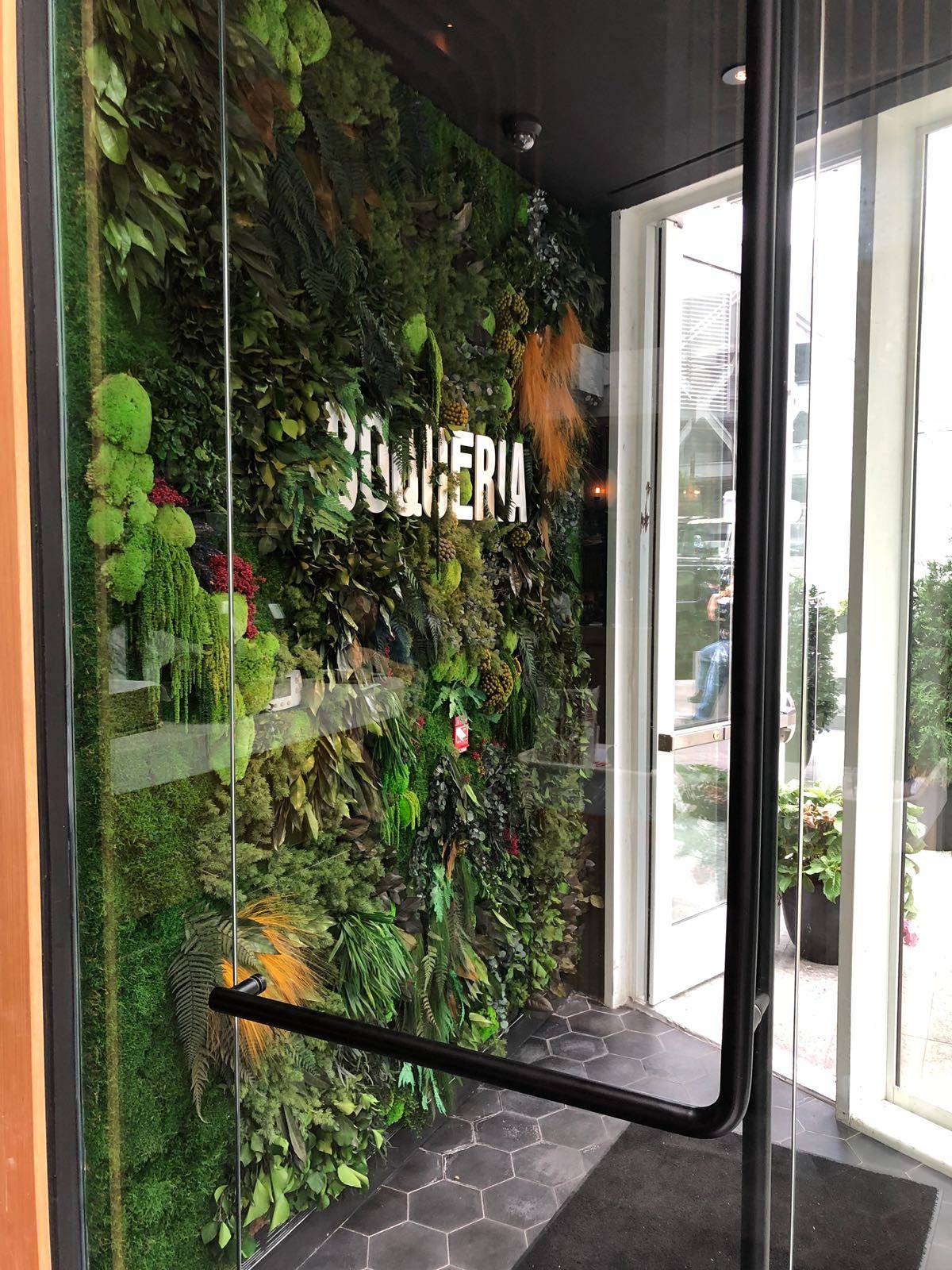 To complete the restaurant's warm, welcoming, and friendly atmosphere, Flowerbox Wall Gardens created a 100% density lush wall garden application for its entrance. Lush, leafy, and tropical looking, this gorgeous wall garden will remind you of the Mediterranean sun, nature's abundant wonder and lustrous, radiant beauty. Every time you step into Boqueria Restaurant at Midtown West, you will be reminded why we are able to thrive. You will know why is nature crucial for our wellbeing. This Flowerbox Wall Garden will instantly improve your peace of mind, remind you of your connection with the natural world, and your sense of wellbeing.We made this Wall Garden using Flat Moss, Bunn Moss, and Reindeer Moss as a base. An abundance of various Fearns and Leaves was strategically and thoughtfully added to this symphony of natural beauty. All shades of green and a plethora of various textures sooth. Tasteful pops of red glow from within the garden.
When you see it for the first time at the entrance of Boqueria Restaurant, your initial thought will be wealth and abundance. When you deep dive, you'll see that this plethora of natural, preserved plants was mindfully, conscientiously planned to bring out the best of each plant and create an organic look. By looking at our Wall Garden made for Boqueria Restaurant at West 40th Street, NYC, you will realize that these plants were meant to be together. Small, precious parts of this moss and leaf garden design create a well-formed, magnificent consonance you will enjoy.
Garden Wall Art Easy to Maintain, Made for Enjoyment
All busy places need spots of tranquil, calmness, and composure. Flowerbox 100 percent density lush Wall Garden application at the entrance of the restaurant provides all guests with the feeling of composure and undisturbed peacefulness. The interior of Boqueria Restaurant at West 40th Street is Mediterranean inspired. Studio Razavi Architecture designed this minimalistic and warm interior. They included wooden furnishings throughout the dining room, cream leather banquettes, illuminated by soft lighting for warmth and familiarity. Natural plants, wood, and soft, glowing light create a unique interior that will provide you with a sense of enjoyment where it is so easy to relax.
Everyone working at Boqueria Restaurant already loves the fact that Flowerbox vertical wall garden doesn't require any maintenance. Our preserved wall gardens don't require your care at all. They retain their fresh-cut, vibrant, glowing look for 5 to 7 years with no maintenance whatsoever. Each attached by hand, Flowerbox plants don't need watering, misting, light, or soil. Being a part of a true art piece, they will always inspire feelings of serenity, stillness, and restfulness.
Preserved with a non-toxic glycerine based stabilizing solution, Flowerbox natural mosses, ferns and leaves are perfect for fast-paced interiors to provide maintenance-free instant enjoyment.
Boqueria Spanish Tapas Bar & Restaurant, NYC
Contact Us Today to Start Your Dream Wall Garden Project
Are you inspired by lush, leafy, and tropical wall garden at Boqueria Restaurant 260 West 40th Street, NYC 10018? The good news is that Flowerbox Wall Gardens art of preserved nature can become a part of your interior, too. Feel free to look at different projects we did for our corporate clients, get inspired, and try to imagine what could we do for your interior.
Whether you need a Wall Garden or you would prefer a Moss Sign with your company's logo, we have ideas, technique, skills, and expertise. Our designers and technicians use sustainably sourced mosses, ferns, and leaves, best tools, and precise technique. All of our vertical preserved wall gardens are 100 percent hand-made and custom-made. The size of a wall garden and the choice of plants depend on the ambiance you would like to achieve and the characteristics of your interiors.
Feel free to express your mission, promote your brand, or send an important message. If you use an eco-friendly, natural wall gardens custom-made by Flowerbox, success is guaranteed.
We cannot wait to hear your ideas. Contact us today or call us right away at 716-524-0997.