Wall Garden Application at Taskin Bakery, Paterson NJ
Client name: Taskin Bakery
Location: 103 Hazel St, Paterson, NJ 07503
Concept used: Wall Gardens
Project Specifics:
– Wall Garden Application
Materials Used:
– Flat Moss, Bunn Moss, Reindeer Moss
– Ferns and Leaves
– 5 Years Guarantee
---
On April 12, 2017, Flowerbox Wall Gardens installed a stunning wall garden application display for Taskin Bakery located in Paterson, NJ. We love helping retailers enhance their space and we are so happy to make the interior of this family-owned business memorable and unique.
Authentic Turkish Handmade Pastries at Taskin Bakery, Paterson NJ
Turkish style pastries, rolls, Simit sesame bagel, Pide, Pogaca, Acma, Borek, Baklava with pistachio filling — anything you choose at Taskin Bakery is outstanding — fresh and tasty beyond words. It simply must be personally experienced. Most of their customers give rave reviews and say that they love the aroma of freshly baked bread, its freshness, and crustiness.
Taskin Bakery NJ focuses on baking traditional Turkish premium pastries, bread, and desserts. They deeply care about the quality of their products, so they don't focus only on the taste. Taskin Bakery is also passionate about using wholesome, top quality ingredients. All of their bread and pastries are Kosher certified and baked in brick hearth ovens.
Everyone working at Taskin Bakery enjoys being able to offer traditional Turkish pastries to the Turkish community in New Jersey. However, their passion is also introducing these authentic, handmade products to everyone else in New Jersey, regardless of the flavors and aromas they are used to. Anyone who loves fresh, crusty bread and savory, delicious goods baked in a brick oven, will love what Taskin Bakery in Paterson NJ has to offer.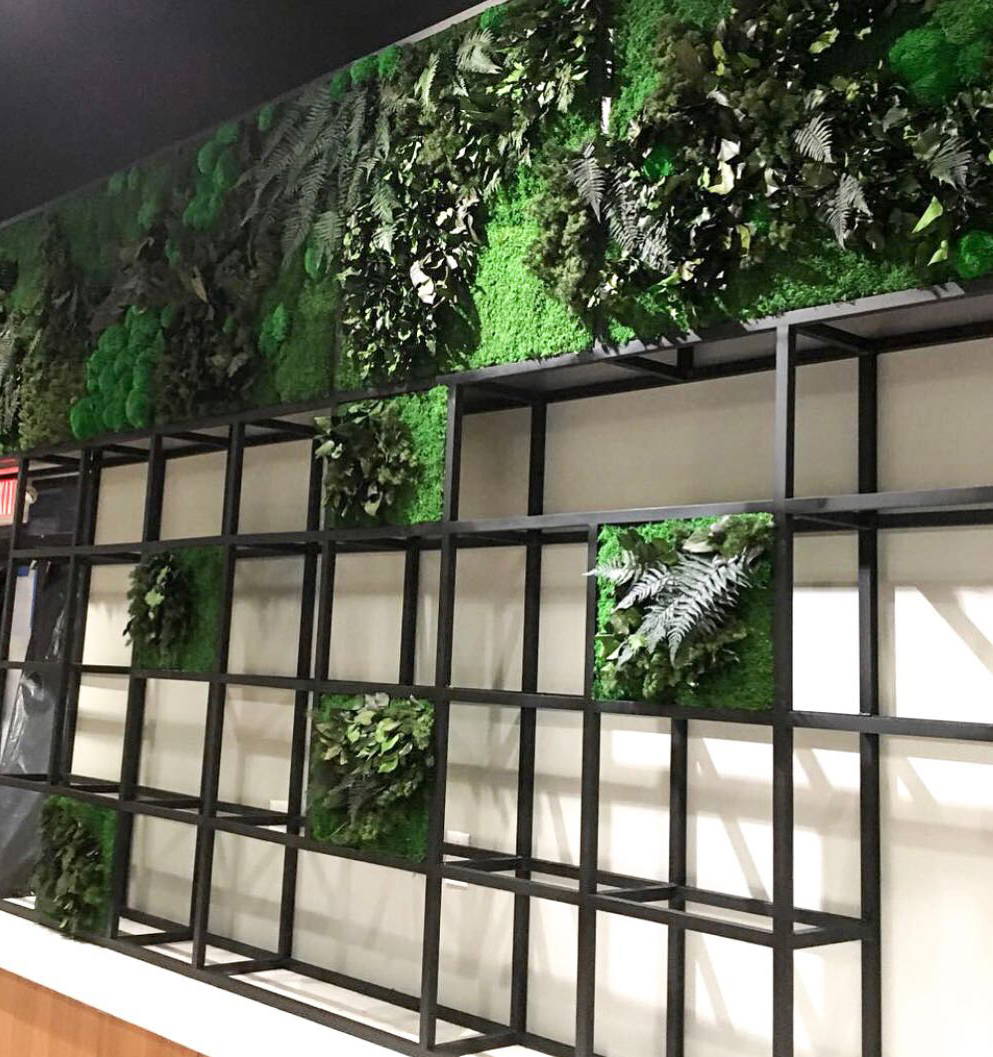 Nature Inspired Wall Garden Applications at Taskin Bakery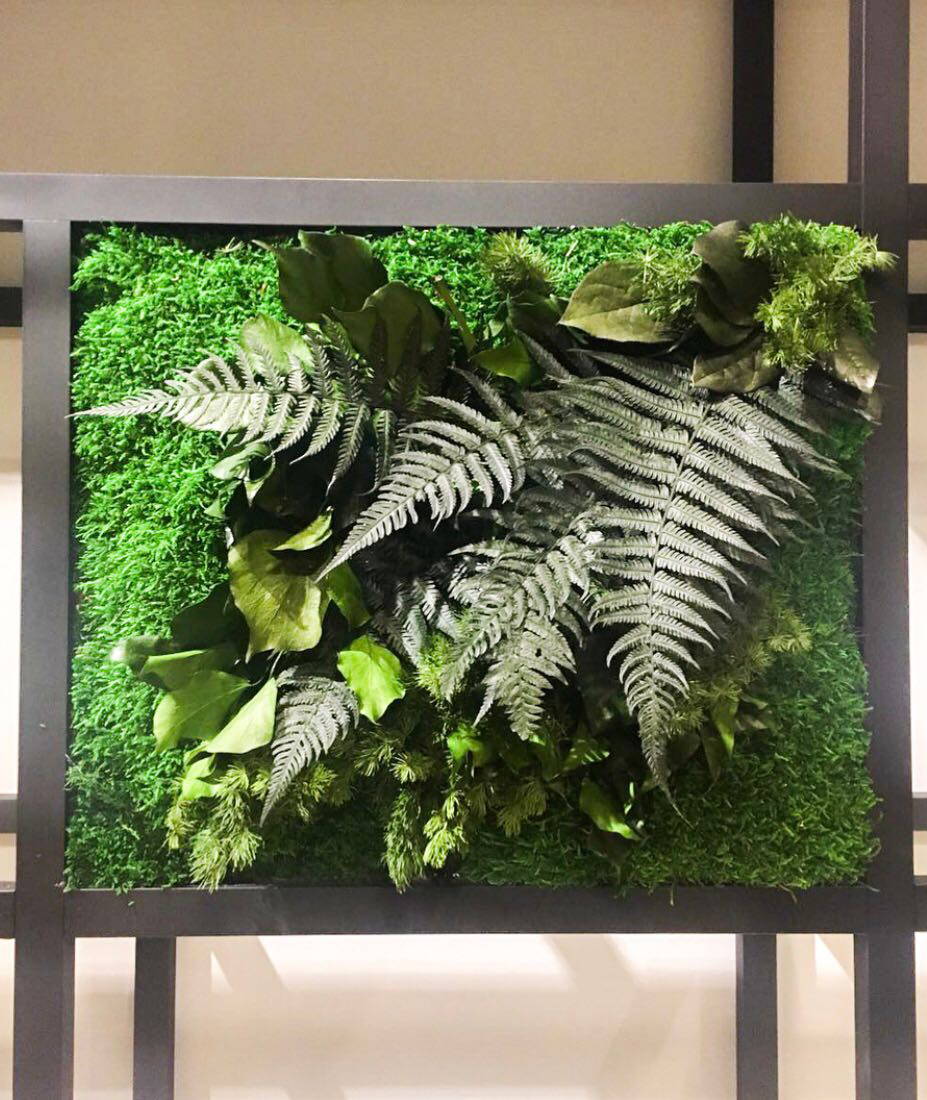 Flowerbox Wall Gardens reinvented the interiors of Taskin Bakery in April 2017. We used flat moss, bunn moss, reindeer moss, and bushy ferns with shiny and smooth dark leathery leaves. The combinations of bun moss, flat moss, and reindeer moss make the base of each wall garden application. While flat moss is the true foundation, reindeer moss and bun moss bring more shades of green and more voluminosity. Textured, feathery, light green and dark green ferns and leaves arouse great curiosity. The unusual shape, plumy, delicate, leafy fronds and bushy appearance of garden moss bunnings, ferns and leaves brought an untamed, natural, organic look to the Taskin Bakery.
Positioned close to the entrance, Flowerbox Wall Garden application brings an unexpected twist to the interior. Our moss and leaf garden application complements the interior of Taskin Bakery in the most innovative, fresh, and modern way. Imaginative, dreamy, and original, Flowerbox wall garden application sets Taskin Bakery apart from all other bakeries in New Jersey and the U.S. The aroma of freshly baked bread, friendly faces of the staff, and the invincible power of green, welcome you at the entrance of Taskin Bakery in Paterson NJ.
Flowerbox Garden Wall and Display Shelving applications made of flat moss, reindeer moss, flat moss, ferns, and leaves are all placed in planters. These planters are made of rustic, reclaimed wood. The combination of wood and greens brings a wealth of organic, natural textures that you will enjoy looking at.
Moss and Leaf Garden Wall Art Made for Enjoyment and Ease of Maintenance
Taskin Bakery in Paterson NJ is a family owned and operated place of business that is often really busy. People love authentic, handmade baked goods and their aroma when they enter Taskin Bakery. However, all busy places need an interior that will provide balance, serenity, and calmness in a refined, sophisticated, intriguing, and original way. Taskin Bakery interior features exposed brick walls and wood. Flowerbox Wall Gardens introduced greenery into this nature-inspired interior.
The great news is that these garden wall art applications don't need any maintenance whatsoever. Flowerbox technicians use a glycerine based stabilizing solution that is non-toxic to preserve these fern and moss garden applications. Preserving process means that they are completely maintenance free. It also means that they will last for at least 5 years with zero care. They don't require any light, watering, misting, or soil. On occasion, Flowerbox garden wall art may need some light dusting. Their durability can increase if you keep them away from the direct sunlight. But that is all. Everything you know about the traditional care for live plants, you can forget about with Flowerbox moss and leaf garden wall art.
Preserved plants that we use in our wall garden applications, moss, ferns, and leaves, are soilless and do not have any roots. This is why you don't have to worry about adding soil to their planters. They also don't require any watering. Water efficient when compared to the live wall gardens' requirements, Flowerbox preserved wall gardens will surprise you. They will retain their fresh-cut, vibrant, lush green look only if you don't water them. It is so easy to get used to great things in life. Flowerbox Wall Gardens are one of those things you can easily have.
Wall Garden Application at Taskin Bakery
Contact Us Today to Get Your Flowerbox Garden Wall Art
Flowerbox Wall Gardens bring an eco-friendly concept, patented worldwide, in a form of preserved vertical wall gardens. The concept that is currently available in 36 countries worldwide is available to you anywhere in the U.S. Flowerbox designers and technicians custom make preserved vertical garden wall art according to your requirements. We harvest natural plants, moss, ferns, leaves, and flowers in their prime to capture their most vibrant look and then we preserve them for your convenience, ease of maintenance, and durability. Thanks to the Flowerbox preserving process, all wall gardens we create, retain their original, fresh color, shape, and smoothness for at least 5 to 7 years.
Whether you are interested in Wall Gardens, Moss Signs & Decor, or Green Step and Repeat, we will create a unique, custom solution just for you. We will be happy to hear all about your idea and we will also be happy to share our ideas and expertise with you. Regardless of where do you want your Flowerbox wall garden art placed, in a residential, office, or any type of business space, we will attach it to the interior of any building structure. Each of our preserved vertical wall gardens has a fully customizable frame with preserved plants attached by hand at various points.
Flowerbox team will be delighted to bring the natural beauty of the outdoors to the walls of your home, place of business, or office. Contact ustoday to get your dream garden wall art.