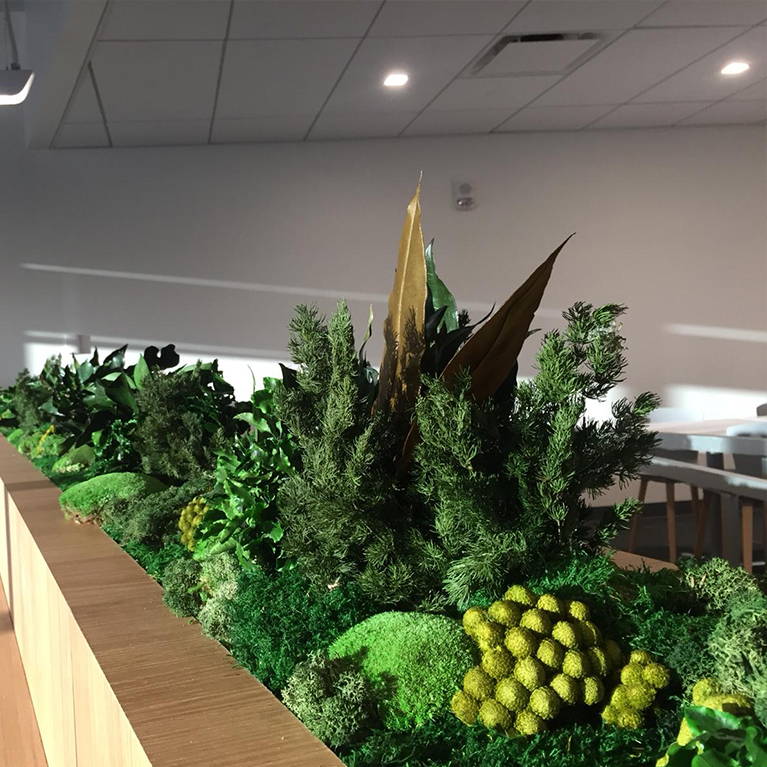 Wall Planters Preserved Garden Project at Vericon, NJ
Client name: Vericon
Location: Newport Tower, 545 Washington Blvd, Jersey City, NJ 07310
Concept used: Wall Gardens
Project Specifics:
– Wall Garden Application for the restaurant area
– Preserved Planter on the seating area
Materials Used:​​​​​​​
– Flat moss, Bunn moss, Reindeer moss, Ferns & leaves
– 5 Years Guarantee
---
Flowerbox Wall Gardens installed these gorgeous planters into cafe seating and wall garden application for the restaurant area at the Vericon corporate building in Jersey City, NJ. As you can see, the results are stunning!
Located at Newport Tower, 545 Washington Blvd, Jersey City, NJ, one of the largest and most successful mixed-use communities in the world, Vericon construction company brings a new, cutting-edge corporate office interior. Open, creative, and innovative, this "Café Seating" got the look of a real, outdoor café garden.
Dedicated to building high-quality spaces and structures, Vericon Construction Company is a premier full-service construction management and general contracting firm. Doing great business with clients and delivering exceptional results can be easier and more effective in beautiful surroundings. Vericon, the place of highest standards of professionalism and integrity, deserves only the best — the finest interior decor.
Flowerbox Wall Garden Applications for the Vericon restaurant and café seating area are full of our premium quality mosses, ferns, and leaves, custom designed only for Vericon.
Flowerbox Wall Planters Garden that Aligns People, Processes, and Culture
Providing turn-key services for achieving building design and functionality, Vericon promotes better communication and builds strong relationships. Flowerbox shares the same values and understands that these goals are easier achieved in a pleasant, friendly, and enjoyable interiors. This is where we step in.
Flowerbox Wall Planters brought the look and feel of a real garden into Vericon offices in NJ. We used Flat moss, Bunn moss, Reindeer moss, ferns & leaves to create an abundant and lush look of a real outdoor garden. Looking at it, you see a vast green space designed with care and a unique purpose in mind. Flowerbox wall planters with preserved moss, ferns, and leaves breath new life into Vericon corporate office space and make it truly welcoming, warm, and harmonious.
Offices today are not only about beautiful, well-designed, productive space. They go beyond that. Contemporary office interiors prove critical in aligning people, processes, company's culture, and goals. Working in a place that aligns all of these brings harmony among employees and within each person working there. Flowerbox understands that and delivers creative, original, custom-made, and 100% unique progressive decorative solutions for the corporate interiors of the future. If you want to infuse harmony and wellbeing into your employees or to create a long lasting impression and impact on your clients, Flowerbox Wall Gardens offer the solution. Your brand becomes memorable with our wall planters and vertical wall gardens.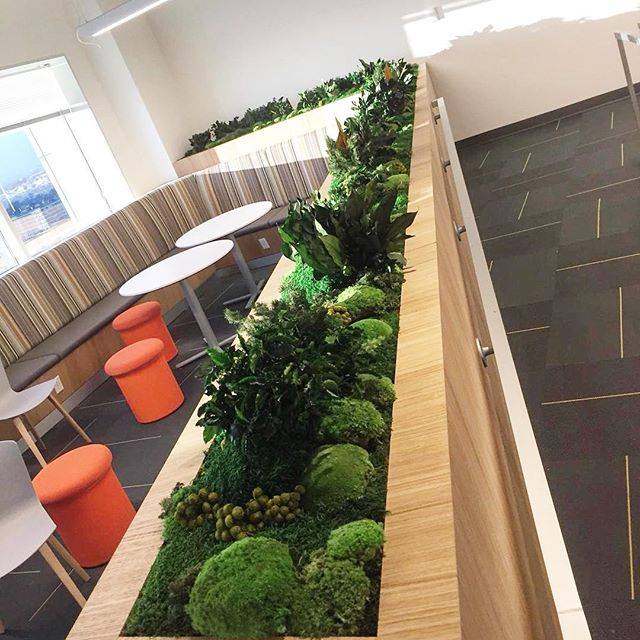 Flowerbox Wall Planters Garden Experience for the Look and Feel of Real Garden
Flowerbox Wall Gardens team knows that exceptional results are possible only using only superb, first-rate products. We used premium quality Flat moss, Bunn moss, Reindeer moss, ferns & leaves to design and create wall garden application for the restaurant area and preserved planter on the seating area. Just being next to this unique arrangement makes you feel relaxed. Sitting next to it and taking in the sight, makes you enjoy the tranquility and harmonious energy it radiates.
Both the Wall Garden Application for the restaurant area and the Preserved Planter on the seating area bring the look of a real outdoor garden to the Vericon interior decor.
Wall Planters Preserved Garden Project
Bring the Beauty of Outdoors to Your Office with Flowerbox Wall Planters Preserved Garden
Flowerbox Wall Gardens designers, technicians, and specialists have worked with a wide range of residential and businesses clients. They can give your idea a true, visual form that both you and others are able to enjoy. Our Wall Garden Application for the restaurant area and Preserved Planters on the seating area at Vericon show how an idea can become an exclusive, cutting-edge interior design element that communicates company's values. With us, the result is always an award-winning space that nurtures ideas, people, and company's goals.
Providing calming and relaxing office space interiors that support and inspire greater productivity and better collaboration is more than you can expect from an interior decor. Show your dedication to sustainable interior design and culture – opt for eco-friendly vertical wall gardens and wall planters that contain preserved plants. Office interiors that include our vertical wall gardens, moss signs & decor, inspire more productiveness and promote your company's values. Flowerbox Wall Gardens creations will support the good health of your employees and bring more energy to them.
One of the best things about Flowerbox wall planters preserved wall gardens is that they are absolutely maintenance-free! Decorating with Reindeer moss, Flat moss, Bunn moss, Reindeer moss, Ferns & leaves brings you a piece of mind and saves your money. All of our applications require zero maintenance. They are preserved and don't require watering, misting, soil, or sunlight. They look as amazing as they did the first day you saw them regardless of the season. The fresh-cut appearance is guaranteed by Flowerbox for at least 5 years.
Contact Us to Refine Your Business Space with Flowerbox Wall Planters Garden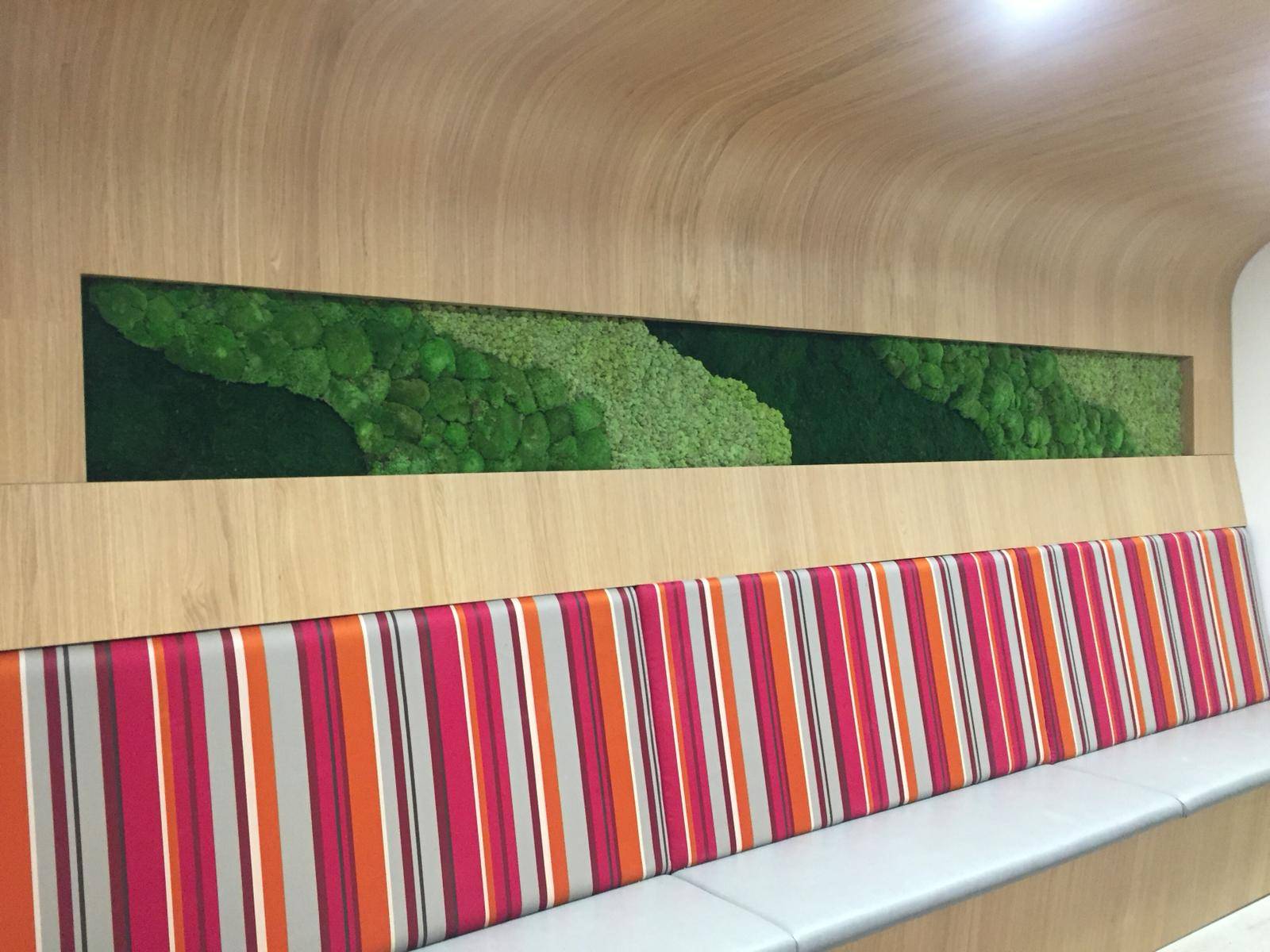 Flowerbox specialists know that in a corporate interior design project, many different aspects of the space need attention. Often, some of these aspects are details that will give the soul and purpose to your business space. This is what Flowerbox does. We use preserved moss and other plants to infuse harmony, a sense of wellbeing, and an abundance of positive energy to your office space. The finished look of our wall planters and wall gardens that contain long-lasting preserved plants is always superb. Each plant is there for a specific reason and with a special purpose in mind. Attached by hand, these preserved plants become essential for the look and feel of the interiors they decorate.
Flowerbox Wall Gardens are located in New York and New Jersey. All of our reserved wall planters, vertical wall gardens, or moss sign pieces are designed and completed here. We cannot wait to hear your thoughts and ideas. Let us know what would you like your business interiors to look like. We will refine it in a unique and original way with our custom-made solutions.
Whether you run an office, a restaurant, a hotel, a cafe, or any other kind of business, Flowerbox is right here for you to take on your idea and make it come to life. Contact us today and make your interiors reflect your values and philosophy with Flowerbox Wall Gardens.